Spot-on Colour Trials
Product Details
Group of 5 x original Spot-on Colour Trial Sample Body Shells. A remarkable find from The Nostalgic Collection. Two with period original product tags. Exceptional, one of a kind Spot-on items! Starting bid £500. Please note that QDT apply 12.5% buyer's commission.
Notes
A little piece of Spot-on history.
The owner tells us:
'I believe these were colour samples or trials as 2 have original labels from 1964 and 1966.
Bodies have never been assembled, rivets have never been spun. All have a few chips but are probably unique.
Bought them many years ago from a collector in Northern Ireland.'
We are delighted to bring these Spot-on trial pieces to the market-place.
This group comprises:
1) Spot-on 274 Morris 1100 body shell, sky blue colour trial. This sample with the holes for a roof rack with canoe was also found in Spot-on Gift Set 702. This sample has the original tag dated 1964. Hand-written print:
'Spot-on Models Ltd. —-ing emnamel Blue to shade supplied.
5EF/LSA/95
23/1064'
2)Spot-on 286 Austin 1800 body shell, deep red colour trial. This sample has the original tag dated 19646. Type print:
'ALEXANDER FERGUSON & COMPANY LIMITED, RUCHILL STREET, MARYHILL, GLASGOW.
'Spot-on Models Belfast , Nov 1966 hand-written.
3)Spot-on 276 Jaguar S body shell, red colour trial. Included in Tommy Spot Gift Set 802.
4)Spot-on 281 MG body shell. White colour trial.
5)Spot-on 195 VW Rally Car body shell, red colour trial.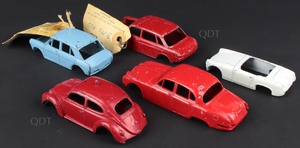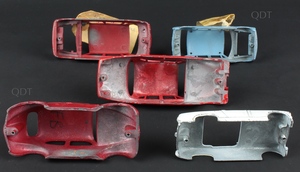 You may like