CPT
Corgi Prototype Triumph TR2 as pictured on page 76 of The Great Book of Corgi. From 1959. Part of an intended 'Budget' series of models for Woolworths never produced. From 'The New European' Collection.
Notes
An exceptional collection of prototypes were purchased by ?The New European? Collector, largely originating from two well-documented sources i.e. the auction of the property of Marcel Van Cleemput at Sotheby?s Auction House in 1999 and the Losch Auction House in Germany during 2000.
A range of simply-styled models were devised in 1959 to sell through Woolworths. Each model measured 5 inches and comprised a body shell and two axles with four wheels. This bright red Triumph TR2 has free-running one-piece wheels; (assumed) the underside pictured in 'The Great Book of Corgi' on page 76.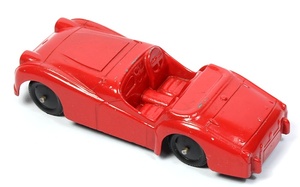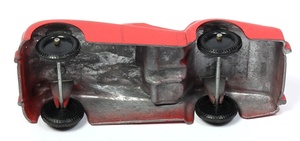 Few little marks only.
You may like