The Phillips Collection
We are fortunate that we receive emails at QDT from collectors when they are considering selling their collections. We were delighted to receive an email from a U.S. collector who had been good friends with Mike & Sue Richardson, authors of 'The Great Book of Dinky Toys'. Back in the day, he gathered information about Dinky Toys U.S. issues and catalogues that assisted Mike & Sue Richardson with articles, particularly Sue's comprehensive piece on the 39 Series in Model Collector magazine. He was acknowledged by them in 'The Great Book of Dinky Toys'.
His collection promised to be an exciting one – and when we received images from him, it was a 'hairs on the back of the neck' moment for us!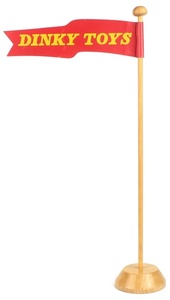 Coming soon to QDT.
Here is his story.
Observations on a 37-Year Collection by Blayne Phillips
Like many diecast collectors, one of my earliest memories of the allure of Dinky Toys happened while standing in front of a hobby store staring at row after row of colourful, highly detailed cars, vans, trucks, aeroplanes and street furniture (figures, traffic signals, etc.) on a tiered wooden display stand with a prominent "DINKY TOYS" header board. They were all such marvellous replicas, truly "Masterpieces in Miniature" as some of Meccano's marketing materials proclaimed.
I recall being particularly enthralled with, of all things, an ambulance. It had everything: the beacon roof light, siren, driver and attendant, hinged opening rear door AND a blanketed patient on a plastic white stretcher! What it also had was immediate recognition. This Pontiac Superior Criterion Ambulance was a vehicle this lad had seen many times on the road in the U.S. midwest. From the long horizontal Pontiac grill with center "V" indentation to the long red side flash on each side to the double pair of cast red emergency lights to the front and rear roof ends, this was the real thing—made to fit in your hand. I beseeched my parents until Christmas that year and Dinky Toys No. 263 had a new home in my room on the chest of drawers.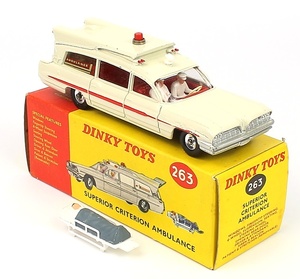 That's how it starts. Then for most of us interest in toy models fades as school, sports and the prospect of driving a real car leaves the models behind in a box in the closet. Years later, living in southern California, I spotted a seller's table at the Rose Bowl Flea Market in Pasadena. He had a few models I had in my youth, but he also had some I had not seen before. I was intrigued. The seller steered me to a toy collectors show that operated 10 times a year. I went to the next show and was amazed at what I saw. I had completely missed Supertoys in my youth and what to make of those pre-war advertising vans, 2-tone 36-Series cars and the larger, more detailed hand-painted station figures! Upon seeing my astonished look at his array of models, one vendor offered me a look at a new book that had just been published: "Dinky Toys and Modelled Miniatures" by Mike and Sue Richardson.
That's how it restarts — big time. I read DTMM cover-to-cover in one sitting and wrote a long letter of appreciation with lots of questions to its authors. Mike quickly wrote back and drafted me to assist with questions of their own about U.S. issues and getting more accurate issue and deletion dates by searching for U.S. catalogues, dated price lists and, if possible, factory-to-dealer invoices. Suddenly I not only embraced a revived hobby, I had a mandate. This was before the internet, so over the next 10 years I scoured toy and hobby stores, antique malls, flea markets, diecast toy club newsletters and antique toy dealer mail-out sales lists. There were trips to various toy fairs around the U.S. as well as France, Argentina and of course England.
The late Mike and Sue would become friends with whom I had many conversations over the years, not only about model details but also about the state of the hobby, some its colourful characters, and the role of future generations on the toys that were part of our lives but not theirs. Mike and Sue had numerous writing projects going, often simultaneously, and maintained a close consulting relationship with Christie's South Kensington until CSK ceased selling toys in late 2005. Writing books and articles together as well as separately, they were regular contributors to Model Collector Magazine, and it was in preparation for one particular piece for Sue that I acquired a volume of U.S. Dinky Toy catalogues—both factory-issued and non-factory—as well as actual car dealer catalogues and magazine adverts that Sue consulted for "Dinky Toys 39 Series" in the March 1991 issue. To date, I believe this remains the most comprehensive examination in print of these models, prototypes and differences between the models and the actual production cars.
Highlights from The Phillips Collection
39 Series American Cars
As the focus of research efforts centered on the American 39-Series cars and the myriad post-war body and wheel colour variations, my 39 Series collection grew accordingly. On offer here are 38 39-Series models.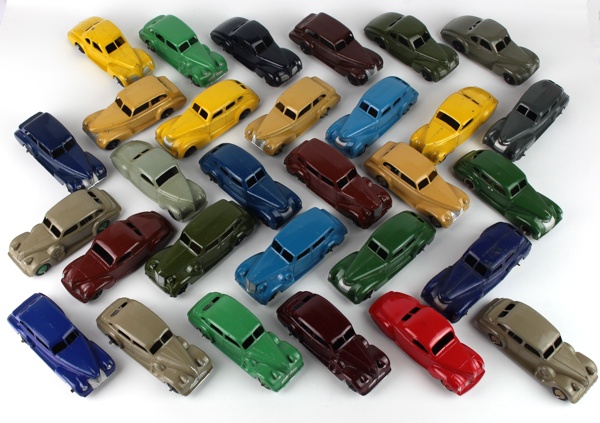 Among the pre-war offerings are a trio of yellow models: a scarce Studebaker State Commander, very rare Lincoln Zephyr and very rare Chrysler Royal. There's also a violet blue Chrysler with few fatigue cracks, yet is 1/8-inch longer than the yellow example and ¼-inch longer than post-war examples!
Post-war single body colour models of note include a brown Oldsmobile, 3 beige examples with black, beige and fawn wheels, a bright red Lincoln Zephyr with matching wheels, 3 taupe Buick Viceroys with black, fawn and green wheels, plus 2 mid-green (apple green) Buicks with matching green wheels.
And a rare bird indeed is the 24P Packard Super 8 in bright mid-blue with black cast wheel/tire from the Bobigny factory in France and produced only in 1949.
Then we come to the post-war 2-tone 39s. Represented here are examples of most of the accepted genuine 2-tone Chrysler, Oldsmobile and Lincoln Zephyr models. (I say "most" because occasionally unrecorded variations show up on diecast price lists or on eBay that haven't been independently verified. In late 2016, for example, a grubby and chipped cream Oldsmobile with mid-blue fenders was offered and sold on eBay in the U.K. Was it genuine or an old repaint? Without examining it under black light and testing the paint, it remains a matter of speculation.) It should be noted that at the time Meccano considered 2-tone colours on the 39 Series to extend the life of the range with more eye-catching appeal, second colour masking had been limited to the seats and tonneau on convertibles (i.e. Jaguar SS100, Sunbeam Talbot Sports) and to the roof on the Hudson Commodore. Achieving clean paint lines on curving sedan bodies and fenders was a challenge. As Sue wrote in her article, "Genuine ones look amateurish." This is particularly evident under magnification.
Along with the 39bu Oldsmobile in light blue with dark blue fenders and light blue wheels are 2 examples of the Olds in cream with tan fenders, one with black wheels, the other with fawn wheels.
The 39cu Lincoln Zephyr is commonly known to come in 2 colours: tan body with brown fenders & bumpers and black wheels; and red body with maroon fenders & bumpers and matching red wheels. Included here is a very rare variant on the red version: dark red body with dark brown fenders & bumpers and factory-silvered door handles!
In addition to the 2-tone models and rarer still: very nice examples of each of the 3 trade boxes: 39bu Oldsmobile Six, 39cu Lincoln Zephyr and 39eu Chrysler Royal. 39 Series collectors outside the U.S. assume these are more available here, but they are not. It appears now that the 2-tones were in production for only about a year—1952—before being deleted and stockists typically discard trade boxes. It took 30 years to acquire all 3 and I know of only 2 other examples that have come to market on either side of the Atlantic in that time.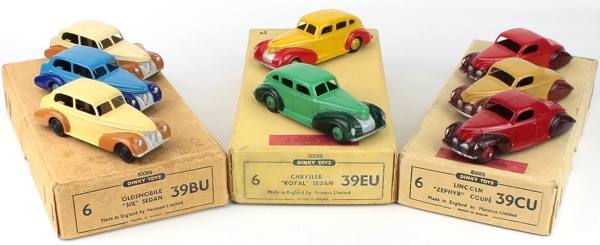 Highlights of other cars include:
30a Chrysler Airflow (pre-war) glossy maroon body with blue wheels and white tires.
30b Rolls-Royce (pre-war) very rare light gray body, dark gray open chassis, charcoal gray smooth wheels and white tires.
30c Daimler export issue in mid green body, black plain chassis, pale green wheels, black tires.
38b Sunbeam Talbot export issue in yellow, green tonneau, yellow wheels, black fine treaded tires.
Two 38d Alvis Sports Tourer export issues: one in maroon, red wheels, white tires; the other in green with light green wheels, white tires.
38f Jaguar SS 100 export issue in red with silver-edged windscreens, red wheels, black tires.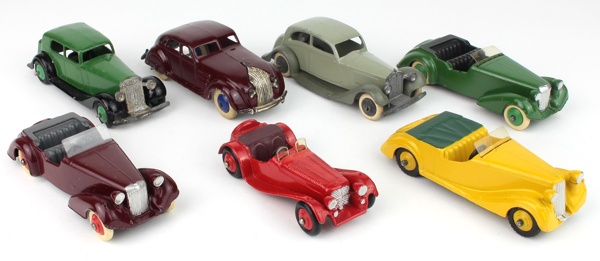 Dinky 24V Buick Roadmaster from the French Factory in all 5 colours: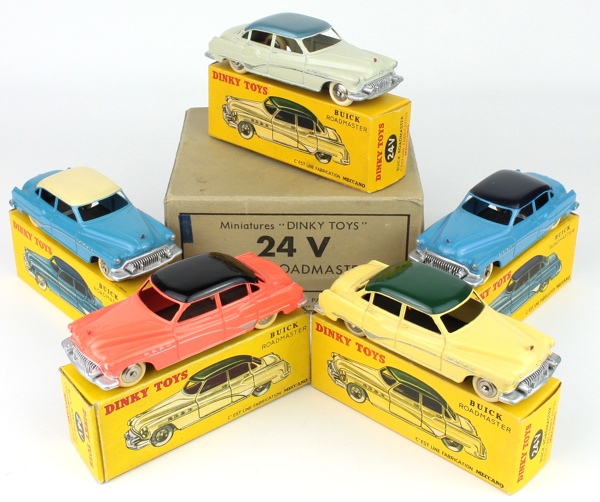 From the small vans & truck section:
34b Royal Mail Van. Black bonnet, chassis & radiator; Red body & wheels with original factory colour scheme label stamped "22 Oct 1948" inscribed "34B Royal Mail Van Issue 2" and signed by "Mr. Guenett." A very rare and unique factory colour sample.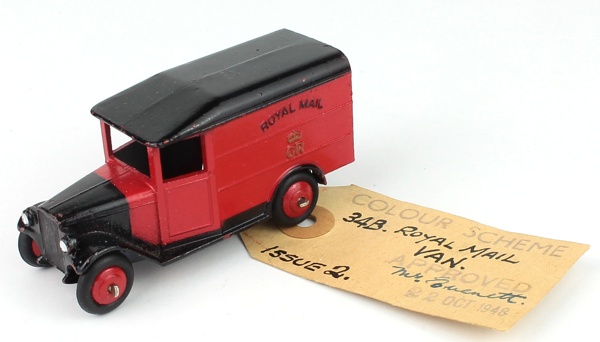 Three French Factory Studebaker Trucks: 25L Covered Truck with original "Deux jouets en un seul" (two toys in one) notice, 25P Pick-Up and 25R Breakdown Truck.

42 Supertoys in total from this collection, including:
502 Foden Flat Truck (1st Cab) Orange cab/chassis, green flash to cab doors, green load & wheels
512 Guy Flat Truck with red cab and chassis, blue back with matching ridged wheels
514 Guy Van 'Spratts' (1st Cab)
919 Guy Van 'Golden Shred' (2nd Cab) H. Hudson Dobson label to box lid side
934 Leyland Octopus Wagon (U.S. issue). Blue cab/chassis, pale yellow load, bumper & band around middle of cab, red plastic wheels, rivet assembly to load bed. Correct later white card box lid stock with blue and white striped label & "Dinky Supertoys" in italicized font. Includes original packing card.
935 Leyland Octopus Flat Truck with Chains. Mid-green cab/chassis, light gray load, red radiator grill & plastic wheels, rivet assembly to load bed.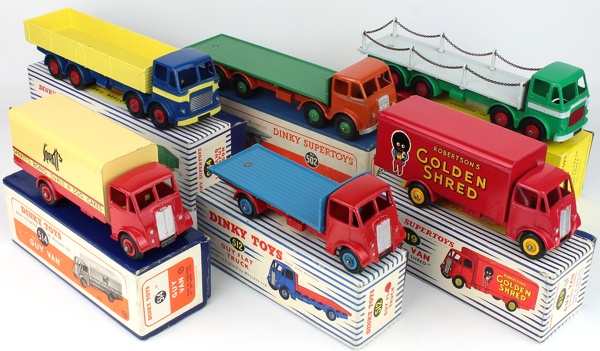 Aeroplanes and Ships, including:
No. 60 Aeroplanes Set (1st issue models without registration letters). Remarkably preserved unused models still strung to original liner card in blue box date coded '11/34' with 2nd issue label to lid.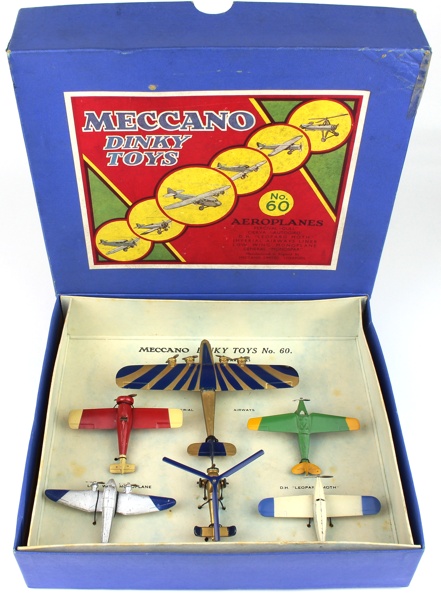 No. 50 Ships of the British Navy. Complete unused models still tied to printed card liner in original blue box with colour illustration. Yellow end label date-coded '10/34'
Accessories (Street Furniture)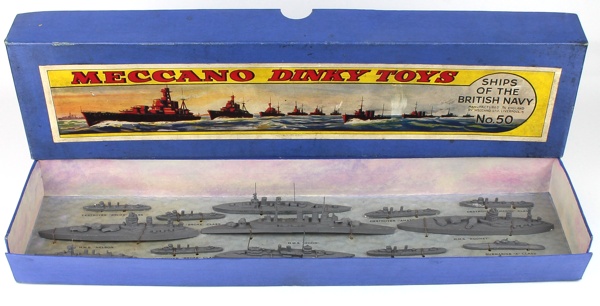 A number of Railway Accessories Sets, both English and French, are on offer including early Hornby Series and Modelled Miniatures station items, figures, petrol pumps, robot traffic signals, telephone call boxes, beacons, road signs and pavement sets — all in original boxes or bags.
A selection of Accessory items: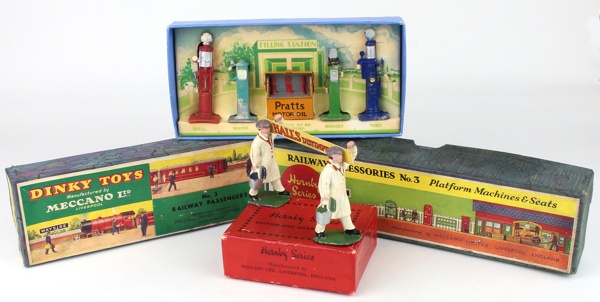 Literature
On offer are a variety of catalogues and leaflets (Meccano-issued as well as non-factory), invoices, store catalogues and periodicals primarily from England, France, Canada and the U.S. And, as noted above, a number of U.S. catalogues, actual car dealer brochures and magazine adverts that relate to the 39 Series that were acquired and used as research materials for Mike & Sue Richardson.
A Word about Catalogues
It is unfortunate that obsolete diecast catalogues continue to be routinely marketed as after-thought additions to collectors. Catalogues are typically offered with a photo of the cover and further identified by date (if one is included on the cover) and country (if it is printed on the cover). And that is it. The models featured on inside pages are rarely if ever noted. But within the same model year significant variations of models included — and notably missing — tell the story of which models Meccano marketed and distributed widely around the world and those which were produced with variant body colour combinations or transfers designated for specific export markets. The descriptions of many of the factory-issued U.S. catalogues included for sale here note illustrations of U.S./export versions of models that do not appear in English or other regional catalogues.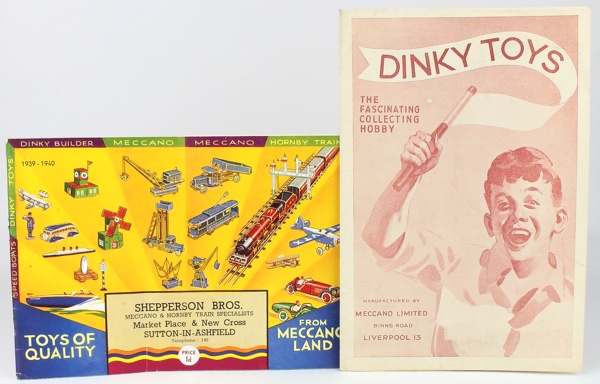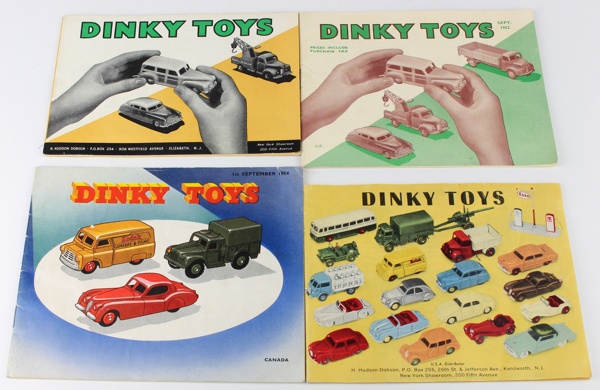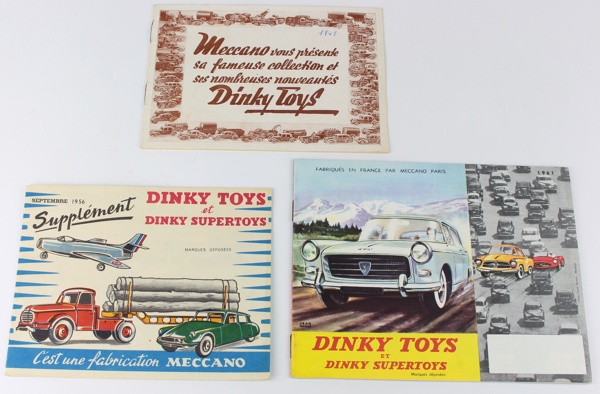 and Non-Factory Catalogues include:
6 F.A.O. Schwarz Christmas Toy Catalogues: 1950, 1953, 1956, 1959, 1960 & 1961. America's most famous retail toy store had its flagship store in New York City and featured Dinky Toys in their annual Christmas catalogues from the 1940s. With the exception of the 1950, all of the other catalogues include some Dinky Models with accessories added from other manufacturers and Dinky Toys Gift Sets that were assembled by F.A.O. Schwarz. These store-created gift sets packed in Schwarz boxes are very rare.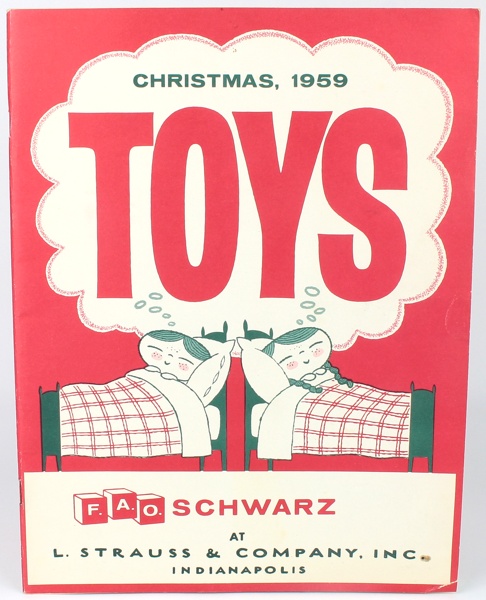 Promotional Materials
Large Dinky Toys Tiered Cardboard Shop Display Stand. Undated but circa 1950s. 26" long, 13 3/4" high, 13 3/4" deep. When opened models may be displayed over 3 levels. Deep yellow with 'Dinky Toys and Dinky Supertoys' in forest green. Under that 'Over 150 scale models' in red. It appears unused & not assembled.
Here is an image of a fully assembled example recently sold at QDT: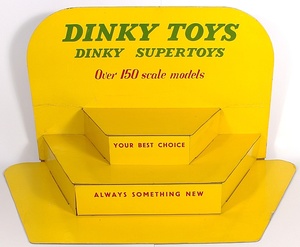 Dinky Toys Illuminated Hanging Sign. Undated, but likely mid-to-late 1950s. 16" long x 5 1/2" high x 3 ½" deep. Gray metal frame with wooden 'DINKY TOYS' letters in red and red tinted glass panel with 'Made by Meccano Ltd.' in yellow. Unused. Has original wiring & 3 old (presumably original) bulbs. A scarce iconic shop sign in exceptional condition.

A Final Word
In addition to Mike and Sue Richardson, I would like to acknowledge a few colleagues who have been close fellow travelers with me in the Dinky trade: Graham Bridges, former co-owner of the Windsor Toy Museum, contributor to Classic Toys Magazine, specialist in Dinky colour variations and friend at the ready; Keith Harvie, long time collector and dealer with an encyclopaedic knowledge of Dinky Toys and Hornby Trains. His Binns Road Gazette was a first class bi-monthly on Dinky Toys that sadly was not supported by enough collectors; and Eric Weichardt, a dear friend possessed with a jeweller's eye for fine diecast from a broad range of manufacturers. Thank you all. I hope the items offered here will enhance the collection and the knowledge of others as they have enthralled me ~ Blayne Phillips
---