CD1
Shop Display Stand Chitty Chitty Bang Bang. Very scarce.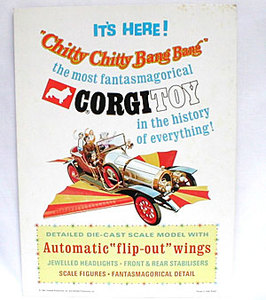 Price: £195.00
This item is no longer for sale, price for reference only.
Notes
A superb free-standing point of sale item in close to mint condition. It measures 393mm x 289mm. Vibrant fresh colours. Minor age wear only. An extremely scarce item, dated 1967 at bottom left corner. An absolute must for the Corgi collector!