DGS 2
Dinky Gift Set 2 Private Automobiles Set. Export only Set. Near mint/boxed.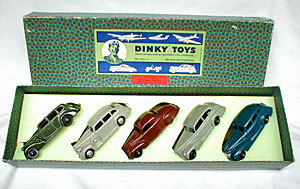 Price: £1,950.00
This item is no longer for sale, price for reference only.
Notes
For U.S., Canadian and South African markets and made between 1947-49.
It comprises:
39a – Packard. Olive green finish. Bright and shining, still with a trace of the dusting powder put on the wheels at the factory. A few rubs on the roof caused by the packing piece and some very small marks besides. This model, along with the others, has spent nearly all of its time in the box.
39b – Oldsmobile. In grey finish. Bright and shining, in very near mint condition.
39c – Lincoln Zephyr. Brown finish. Near mint condition.
39d -Buick. Repainted model with some super detailing in silver at radiator, wheels, spare wheel and headlights. Quite nicely done.
39e – Chrysler. Mid blue finish. Near mint condition with a few rubs on the roof caused by the card insert.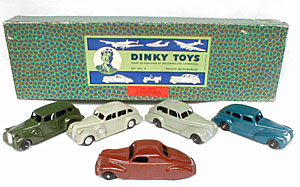 The cars are presented in the attractive green, blue and brown mottled display box with original pale green card insert in which the models sit. The insert is in excellent condition with minor wear only, at one corner in particular.
The box base is in superb condition with barely any wear at all – the drop down flap at the front has never been moved! The lid is in excellent condition – bright vivid colours throughout with an intact, clean and bright paper label. Two corners at one end have split and been carefully repaired, one corner having a little surface loss. The most important top surface is almost perfect – the overall impression is extremely fine indeed. Hudson Dobson export label on lid.
This is an attractive and scarce set which certainly presents very well.
A sound investment piece for the discerning collector.