CGS5
Corgi Gift Set 5 Agricultural Gift Set. Very good plus - near mint/boxed. Complete with Retailer Card, leaflet and intact cellophane. From the very fine Cheshire collection.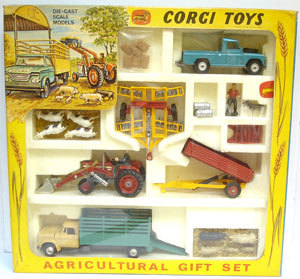 Price: £395.00
This item is no longer for sale, price for reference only.
Notes
All Corgi Gift Sets are sought-after, and this one is certainly no exception, especially complete with the Retailer Card (so often discarded by the shopkeeper).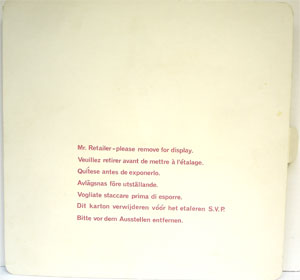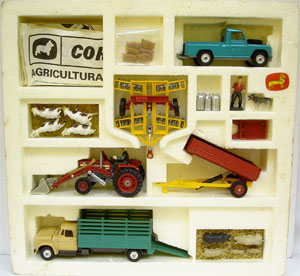 Issued between 1967-72, it comprises:
1) Corgi 484 Livestock Transporter in beige and green. Excellent condition with a few little marks to the beige finish and the suspension on the wheels is broken now.
2) Corgi 438 Land Rover in metallic green with cast wheels. Very good plus condition with a few chips mostly at the back edge of the cab roof and the tow hook, although complete, is split.
3) Corgi 69 Massey Ferguson Tractor & Shovel in red with silver shovel and driver. In near mint condition, although the inside of the scoop has a notable chip to the paint finish.
4) Corgi 62 Tipper Trailer in red and yellow, complete with raves. Near mint. Small split to one tyre.
5) Corgi 71 Fordson Disc Harrow. Excellent, with notable tarnishing to the finish of the metal parts.
6) Corgi 1490 Skip & Three Churns, Farmer & dog.
7) Four calves set on the original card 'hay' piece.
8) Three pigs & two piglets set on the original card 'hay' piece.
9) Six brown sacks.
The polystyrene tray is quite clean, fresh and complete, with only a little light grubbiness in places. Bright Corgi dog label too!
The outer card & cellophane box is brightly-coloured and complete.


Box reverse: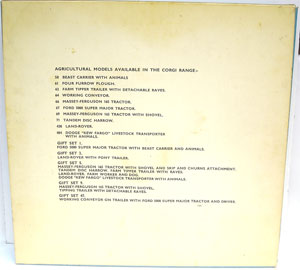 Couple of small repaired tears and a little minor handling/age wear. Notably, the cellophane window is intact – no doubt protected by the Retailer Card!
Nice to see the large Leaflet is still present too: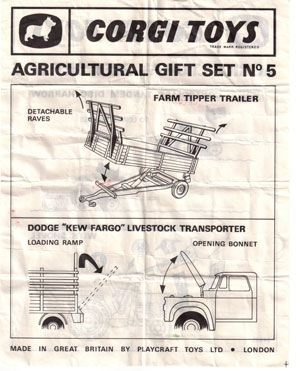 You may like