CGS19
Corgi Gift Set 19 Chipperfields Land-Rover with Elephant & Cage on Trailer. Scarce 3rd issue with packing. Very near mint/boxed. From a very fine private Cheshire collection.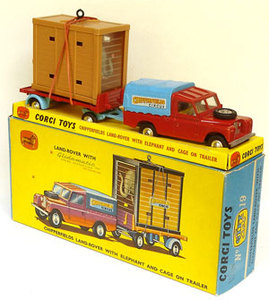 Price: £275.00
This item is no longer for sale, price for reference only.
Notes
This is the 3rd issue – note that, like the 2nd issue the canopy to the Land Rover is plastic but unlike the 2nd issue there are no metal bars to the elephant cage but a plastic sheet with 'bars' detail. A desirable and scarce two-piece Gift Set in original condition. It comprises:
1) The Land-Rover has a plastic canopy and shaped spun wheels. Suspension. It looks very smart and fresh with a gleaming original paint finish, complete with spare wheel on the bonnet. Chipperfield's Circus label on both sides of the plastic canopy.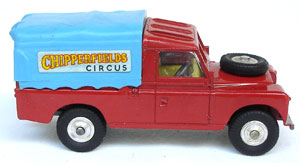 Just a few very minor marks away from mint.
2) The brown plastic cage containing the original elephant is still elastic-banded to the red and blue metal trailer. Intact opening rear door and plastic 'bars' section. Chipperfield's Circus label at one side and hook on top of the cage.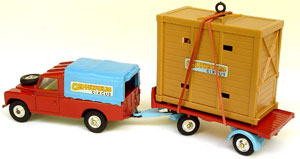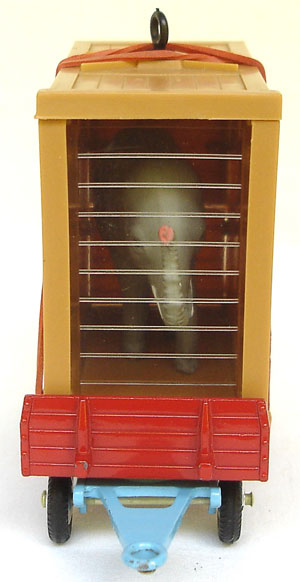 The blue and red trailer has shiny spun wheels. There are a couple of very small marks at an exposed edge.
The card plinth is bright, crisp and complete. No tears at the wheel slots. Indeed each wheel slot still has the push-out piece attached. Minor age wear only.

The card box is crisp, vividly-coloured and complete. Note that this late issue box has some minor colour abnormality – i.e. the red print on the box is now a pink-purple colour (original). A little very minor age wear and tear at end flaps. Shopkeeper's pencilled price at an end flap.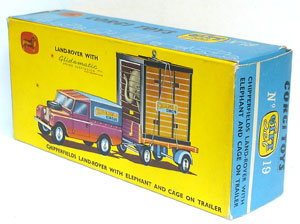 This set comes complete with the card packing piece too!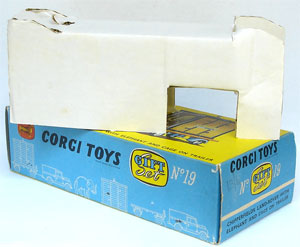 You may like