CGS6
Corgi Gift Set 6 'Rocket Age' Military Gift Set. Excellent-near mint/boxed. With all packing & leaflets. Very scarce! From a very fine private Cheshire collection.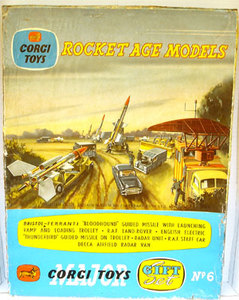 Price: £1,100.00
This item is no longer for sale, price for reference only.
Notes
Only 10,000 of these large Gift Sets were made between 1959-60 and so this is a hard find in any condition.
The shopkeeper would have to order this set specially at the time, since it cost a whopping 57/6 (small original price label at one side of the lid)!
Particularly difficult to find the pictorial card outer box in presentable condition, this example has fared better than most.
The large military set comprises:
1) *Corgi 350 Thunderbird Missile on Loading Trolley * in silver and air force blue. Couple of marks to the silver finish on the missile on one wing (probably caused by the securing clip). Nose cone is an accurate replacement.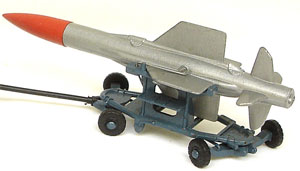 2) Corgi 351 RAF Land Rover in air force blue with RAF roundel and flat spun wheels and spare wheel. Few little marks, mostly at side exposed edges and a trace of glue on one door. Minor tarnishing to the baseplate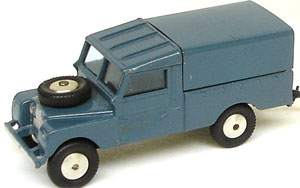 3) Corgi 352 RAF Vanguard Staff Car in air force blue. Lovely original lustre, this Vanguard comes complete with RAF roundel, flat spun wheels. Couple of tiny marks and a couple of stray dabs of silver.
4) Corgi 353 Decca Radar Scanner with rotating scanner. Close to mint with just a few little marks at some exposed edges.
5) Corgi 1106 Karrier Decca Radar Van with rotating scanner & aerials. Version with five orange stripes. Complete with all delicate parts intact. Few little chips head on and at some exposed edges. Some age discolouration to the complete paper labels at the sides.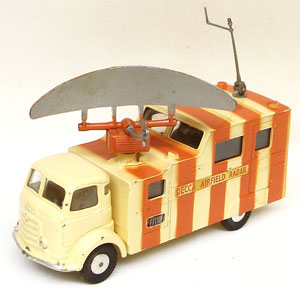 6) Corgi 1108 Bristol Bloodhound Guided Missile & Launching Ramp. Occasional little mark only to the Guided missile. Replaced nose cone. Launching Ramp is very close to mint.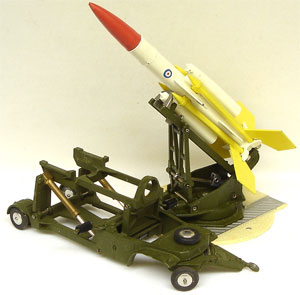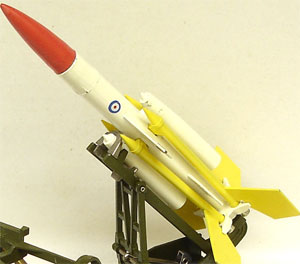 7) Corgi 1117 Bloodhound Loading Trolley. Couple of chips and very minor marking.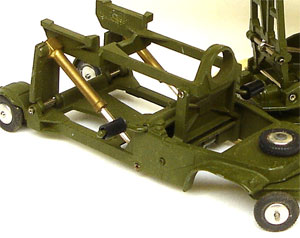 The attractive highly detailed pictorial scene box is complete and the colours are bright with no graffiti. However, the sides of the lid have had glue repairs due to some seam separation in places and some surface tears. Still presents nicely – often the lids of these sets can sustain very heavy damage with chunks missing! Not in this case.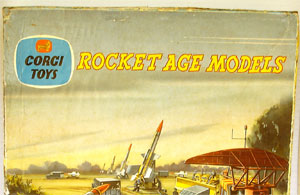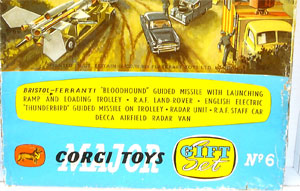 Nice to see that this set comes complete with both upper and lower card packing pieces. Upper packing piece has a little wear but all complete: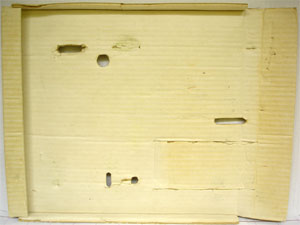 A little wear and discolouration to the lower packing insert.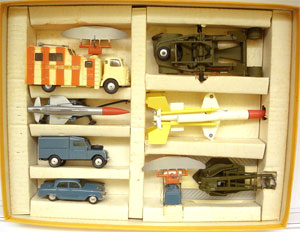 Notable that this set also comes complete with the three leaflets as well as the Corgi Club Membership Form: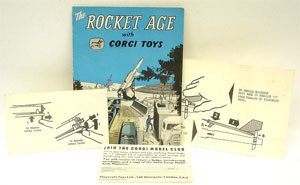 You may like