D57006
Dinky 57/006 Nash Rambler Classic. Hong Kong Dinky. Very near mint/boxed. Rare. Part of a high quality collection from Cambridge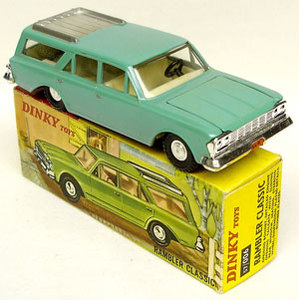 Price: £180.00
This item is no longer for sale, price for reference only.
Notes
One of the small range of Dinky models made in Hong Kong between 1965-67. Highly attractive 1:42 scale models, all presented in distinctive pictorial boxes.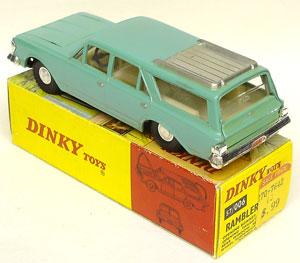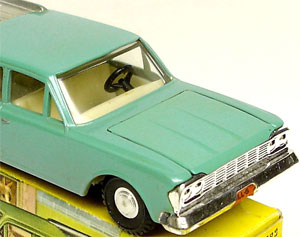 Another rare Hong Kong Dinky model from the Cambridge collection just in! This Rambler is in very fine, all original condition throughout with a distictive light green and silver paint finish.
Nice touch ? the rear hatch opens and the rear screen slides down. Suspension is fine on all four wheels.
Virtually mint – this example has a couple of stray dots of (factory) silver at one side and the tiniest dot at the opening bonnet edge. Lovely example – and so difficult to find!
The colourful detailed pictorial box looks a treat – boxes are a rare find in this condition. Feels and looks as-new. Remains of a small strip of old sellotape at one side which seems to peel away quite easily without removing any of the card surface underneath. Old shop price label at an end flap.
One of the harder to find Hong Kong Dinky models.
You may like