DTS
Original, rare Dinky Point of Sale/Exhibition Stand. Light green wooden display stand. Excellent.

Price: £750.00
This item is no longer for sale, price for reference only.
Notes
A three-tiered construction, timber frame with plywood shelving. Measures 4 feet at its widest point, 16.5 ins deep, 9.5 high. Original maker's label 'Emkay Furniture Products Limited'. Estimate age late 1940's – early 1950's. Extremely scarce Dinky Point of Sale or Exhibition Stand. Similar items are photographed in 'The Great Book OF Dinky' on pages 226, 227, 229.
Light green finish with lettering in red 'DINKY TOYS, DINKY SUPERTOYS'. One or two minor areas where the ply wood is damaged, all other wear is only to the paint finish. It is solidly and professionally constructed.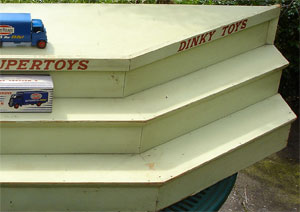 (The Dinky 'Ever Ready' Van is not included in the price – just placed there to give an idea of scale!)
The first we have ever handled.