CJ3008
Corgi Juniors 3008 Crime Busters Gift Set. Never removed from still shrink-wrapped box! Scarce from 1970! From the sensational private James Bond/T.V. & film-related private collection we are handling!

Price: £1,295.00
This item is no longer for sale, price for reference only.
Notes
This exciting four-piece Gift Set is a rare item to come to the market place. In completely unused and untouched condition, since all four models are still enclosed within the factory shrink-sealed box.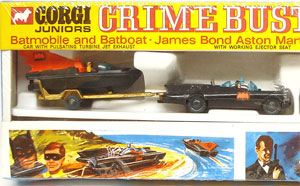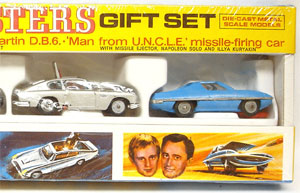 The set comprises:
1) 1001 James Bond Aston Martin DB6 in silver with a red interior.
2) 1002 Batmobile in black with luminous bat logo and seated figures of Batman & Robin.
3) 1003 Batboat with red plastic fin, luminous Bat logo, and two seated figures of Batman & Robin. Gold coloured trailer.
4) 1005 Man From U.N.C.L.E. Car in blue, with chrome detail, and two seated figures.
Some surface corrosion to the finish of some of the bare metal parts, even though the box is sealed.
The shrink-wrap has a small piece missing at one top corner. The colours of the card graphics are day-one vivid and fresh. There are no corner crumples or wear.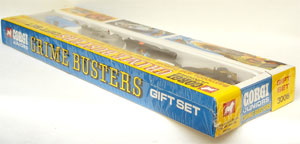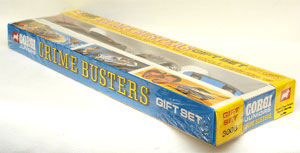 A superb and rare set from this collection!