D12C
Full Trade Box of Dinky 12c/750 Telephone Call Boxes. Very near mint/boxed, with dividers. From an exceptional Dutch collection just in!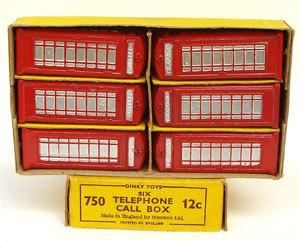 Price: £250.00
This item is no longer for sale, price for reference only.
Notes
Fast disappearing from our British streets (and those that remain look less than inviting), these telephone boxes have a particular nostalgic appeal.
Six little gems that look so smart in vivid red and silver finish – this 'treasure box' would be hard to beat!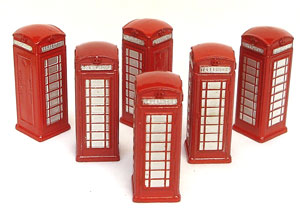 You can find the occasional small mark and one of the boxes may have been on display since the red is slightly darker than the others. All original but probably slightly light-affected.
The dual-numbered, yellow lift-off lid box is bright and sturdy with no splits.
Shopkeeper's old price of 1/3 each is penned and scribbled out on the lid. Staples are rusty. All the original dividers are present and intact!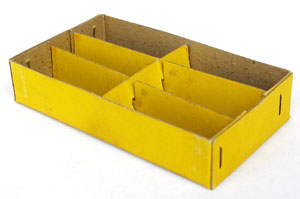 Great piece of British and Dinky history from 1954!