DTB
Dinky Toys Sign (Light Thief Patented), as pictured in The Great Book of Dinky. Very rare original display item.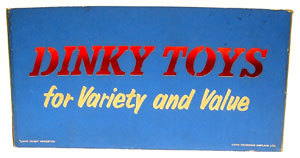 Price: £275.00
This item is no longer for sale, price for reference only.
Notes
Shown on page 230 of 'The Great Book of Dinky' in an original photograph of a Dinky display from 1960. This very unusual item measures approx. 33cms x 18cms. It is made from sturdy card finished in blue with pale yellow writing below the cut-out letters of 'DINKY TOYS'.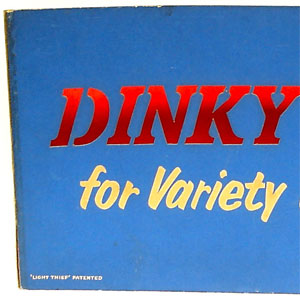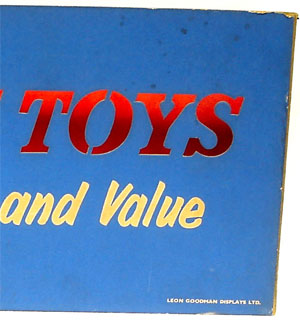 The card behind is red and due to the construction, light enters from the top of the sign:

and so gives the illusion of illuminating the 'DINKY
TOYS
lettering in red. Quite ingenious – and
'Light Thief' Patented
is printed in the bottom left corner.
A little minor wear particularly on the reverse.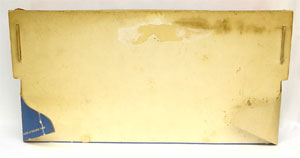 An exceptionally difficult item to find – we wonder just how few were made!