C261
Corgi 261 James Bond's Aston Martin D.B.5. Very, very near mint/boxed. Complete and exceptional example from the high quality collection just in!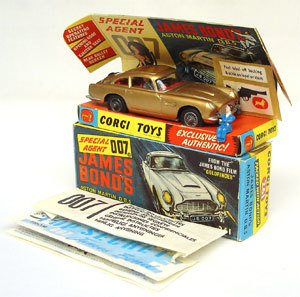 Price: £450.00
This item is sold.
Notes
We are especially delighted to offer one of the most popular Corgi models ever, issued between 1965-69.
The James Bond Aston Martin is in all original condition with none of the reproduction accessories, rife with this issue.
The car is fully functioning, complete with both figures. It has a lustrous gold finish – an especially attractive example, in exceptional condition and certainly one of the nicest you will ever see.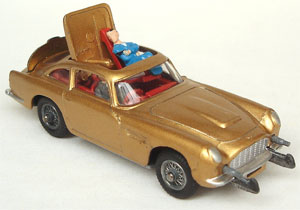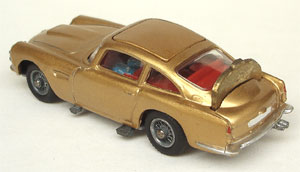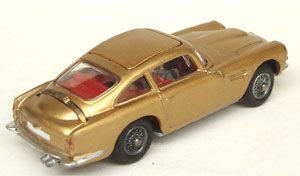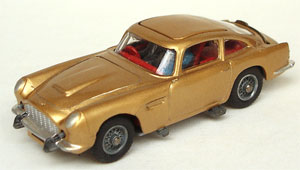 Fortunately, this model does not have the almost obligatory chip on the roof and neither does the roof gape slightly open when closed!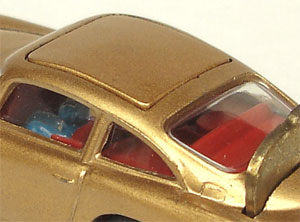 Beautiful gold bullet screen too – so often the gold finish is rubbed away during use.
If one examines the model muinutely, one may see a couple of negligible dots – but really most would call this example mint!
This example stands up to close inspection: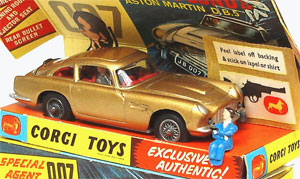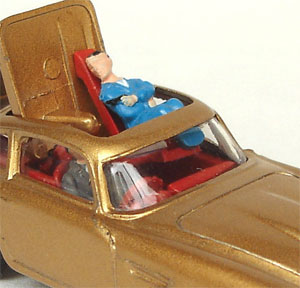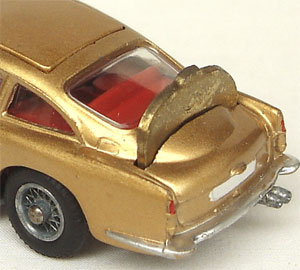 The plinth on which the model sits is in shop fresh crisp condition – with no wear at the wheel slots. Very vivid colours.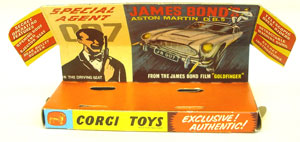 The Instruction Packet has been carefully opened and inside are the all important Secret Instructions which detail the retractable machine guns, opening roof and ejector seat, rear bullet screen and telescopic over-riders. All have been tested and work perfectly! The packet also contains the unapplied 007 badge, and the spare villain.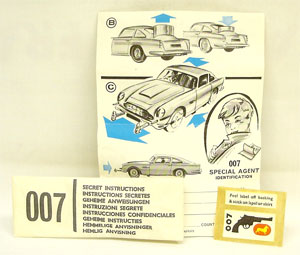 The outer box is clean, bright and complete with all end flap intact and no graffiti. Only the most minor handling wear ( a light crease and the occasional little rub). Lovely silky feel to the card.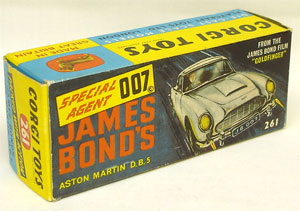 All in all, this is one of the nicest examples we have seen – and of course, all original and authentic throughout.
A piece of Corgi history, a sound investment, and a nostalgic treat which is hard to resist!
You may like