Car Dealership Promotional Display 7 x Stahlberg Volvo Hardtop Models Stack with period advert
Product Details
7 x Stahlberg Volvo Hardtop Models Stack Car Dealership Display in the U.S. From 1971. 'NOW THAT'S A HARDTOP' Plinth. A remarkable item from The Wesley Lodge Collection. Starting bid £350. Please note that QDT apply 12.5% buyer's commission.
Notes
A remarkable and exceptional display piece from 1971. Originally a promotional display piece at a car dealership in the U.S. Once seen never forgotten!
7 x Volvo Hardtop models in 1:20 scale made by the Finnish toy manufacturer Stahlberg, are stacked one on top of the other, each one a different colour, demonstrating the strength of the roof pillars on Volvo models! All firmly affixed to the black plinth with the strap line 'NOW THAT'S A HARDTOP. Every Volvo has six steel pillars….' Total height including the plinth is 44.5cm.
One of the plastic models lacks a mudflap.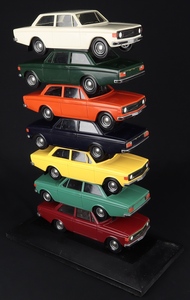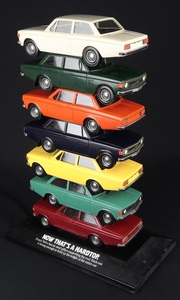 Volvo achieved this feat on the real car too as can be seen in this period advert at the time (see lead image).
There was also a televised promotion to the same effect which may be seen here
You may like