Corgi Juniors Rescue Gift Set, E3022, Pre-Production
Product Details
Pre-production Corgi Rescue Gift Set, No. E3022. Near mint -mint/boxed. Remarkable find, with some unique items in the plain blue card box with printed label. From The Valencia Distributor Collection. Starting bid £150. Please note that QDT apply 12.5% buyer's commission.
Notes
From a Corgi distributor's warehouse, there are some exciting Corgi pieces from this collection that we are thrilled to bring to market.
Stored away for decades, these items all came from a distributor for Corgi in Southern Europe.
Having just listed the production version of Corgi Juniors Gift Set, E3022, this seems like the perfect time to bring to the attention of serious Corgi collectors, this remarkable pre-production find with some components in the original distinctive blue card lift off lid box with printed label. Light wear.
Note key differences between this pre-production sample set and the production version:
This set contains 2 examples of the Rescue Station. One has Rescue Station No. 29 and light blue roof glass. The production example has the Rescue Station with No.15 lettering and mid-blue glass roof. This prototype also contains the latter.
The sets of figures are metal not as in the production version, where they are plastic.
Two RESCUE TEAM Range Rovers in orange-red. This version was included in some issues, although other issues are in blue with COASTGUARD labels. See set listed (different wheels too!).
As far as we can tell, the helicopter is the same as the production version. There are 3 present in the pre-production Gift Set box (all three have damage to ski units).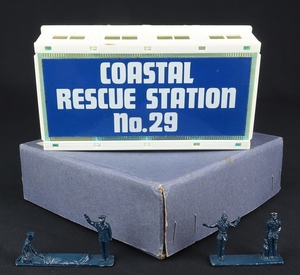 You may like