Corgi Toys 261 James Bond's Aston Martin
James Bond's Aston Martin D.B.5 by Corgi Toys, No. 261. Bright gold issue. Very near mint/boxed. 1st issue WITH INDICATOR LIGHT CASTING. 2nd issue style box with full Instruction Packet & 'Model Car Makers to James Bond' Brochure. Pristine card plinth.
Notes
Always a sought-after Corgi toy, this James Bond Aston Martin is a first issue casting (production run 1965-69). Note the indicator light casting and double side vent present on this early issue.
Please see our Blog on Corgi 261 models:
http://www.qualitydiecasttoys.com/articles/5
This exciting and iconic car is in all original condition with none of the reproduction accessories, rife with this issue.
The car is fully functioning, complete with both figures. This James Bond Aston Martin has a very close to mint, all original, glossy gold finish.
Suspension is fine on all four wheels. Fine tread original tyres are well-shaped.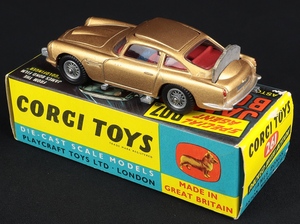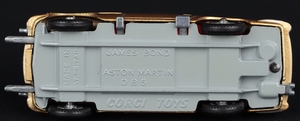 A very small flake of paint on one side and the occasional negligible mark besides. Happily free of the usual rub or even chip on the roof! Note how bright and fresh the silver retractable machine guns are too.
The 2nd issue card plinth (i.e. with arrow on the red section where the model is placed) is complete, fresh and crisp with intense colours. Happily free of wheel slot tears, the card is crisp and rarely handled, looking so close to shop-fresh.
Reverse view: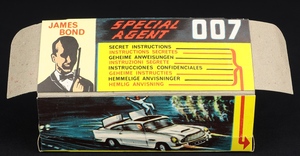 The Instruction Packet has the full complement of accessories i.e. the badge, Instruction Leaflet and spare villain.
Secret Instructions Leaflet (detail the retractable machine guns, opening roof and ejector seat, rear bullet screen and telescopic over-riders).
Additional Brochure 'Model Car Makers to James Bond' included too.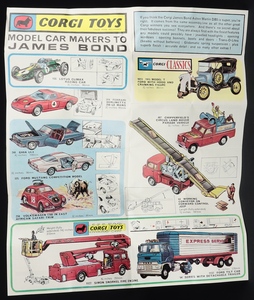 The 2nd issue outer box impresses with vibrant colours on crisp, carefully handled card. Note that since it is 2nd issue, there is shading detail around the lettering ASTON MARTIN DB5 on the box face and a thick black border around the JAMES BOND'S lettering, too.
A few very small areas of surface loss.
You may like