CL
Corgi Leaflet 'Win A Car For Dad' Contest. Scarce. From 1968. Very, very near mint.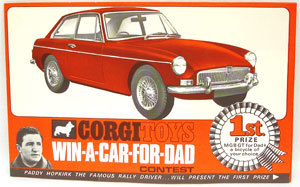 Price: £65.00
This item is no longer for sale, price for reference only.
Notes
A most unusual and fascinting Corgi leaflet promoting the 'Win A Car For Dad Contest' held by Corgi during 1968. First example we have seen!
Paddy Hopkeirk presented the lucky winner the prize of a MBGGT and a bicycle!
Still flushed from the 1966 World Cup, the third prize was a Wembley 'England World Champions' football!
Riches indeed!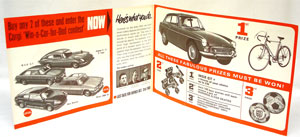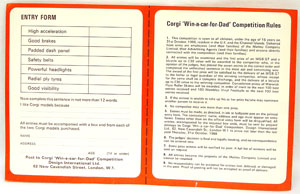 This leaflet is unmarked and well stored with vibrant colours on a clean white background. One tiny tear that is easily overlooked – otherwise mint!
You may like