Dinky Toys Gift Set 123 'Mayfair'
"Mayfair" Gift Set by Dinky Toys, Gift Set No. 123. Very near mint-mint/box wear, but complete. Original with all figures. Very scarce, iconic Dinky set! From The Hastings Collection.
Notes
Issued between 1963-65, this is a very scarce and sought-after Dinky Gift Set in complete and original condition, straight from the extensive Dinky collection we are handling.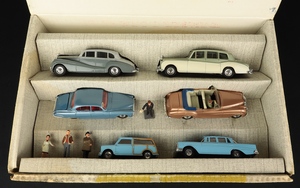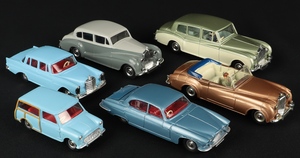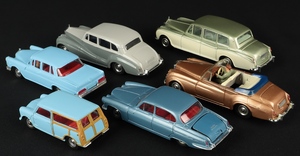 The set comprises:
1) Dinky 142 Jaguar Mark X in silver blue finish with a bright red detailed interior, spun wheels with suspension, both pieces of luggage in the boot. Mint.
2) Dinky 150 Rolls-Royce Silver Wraith in gleaming two-tone grey with bright chrome and a notably intact bonnet emblem. Shiny shaped spun wheels with suspension and a bright untarnished baseplate. In very near mint condition with none of the expected rubbing to the bright chrome. One little mark on the roof and the occasioanl tiny mark besides.
3) Dinky 186 Mercedes-Benz 220 SE in a distinctive shade of bright light blue with a vibrant red detailed interior and ivory steering wheel. Sleek, matt base. In very near mint condition – just one little mark away from mint! Intact bonnet emblem and bright chromed bumpers, headlights and radiator.
4) Dinky 194 Bentley S2 in gold with a deep blue tonneau, driver in a suit, off-white interior, steering wheel. In very near mint condition with a lustrous finish and bright chrome, intact bonnet emblem and windscreen. A couple of negligible dots may be seen if you peer closely enough.
5) Dinky 198 Rolls Royce Phantom V has a cream lower and a pale metallic grey-green upper, pale blue interior, notably intact bonnet emblem, chauffeur. Shaped spun wheels with suspension. Mint!
6) Dinky 199 Austin Mini Countryman in vivid sky blue with brown 'woodwork' details, bright red detailed interior and shaped spun wheels with suspension, cream steering wheel. Very near mint condition with a couple of negligible dots only.
All presented in a sturdy card box with a flip lid which is intact and complete with an excellent inner card piece in which all six cars slot (no tears). Four delightful detailed figures are still present too!
Some rubbing and grubbiness to the lid which did not improve when it was washed over at some time.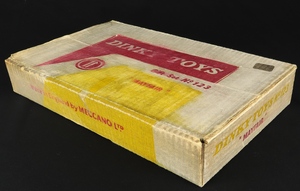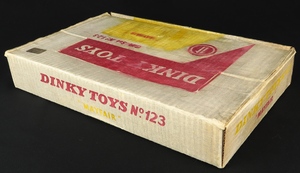 Smudging to the print has occurred with water stain marking. Remnants of an old price label and some sellotape. No graffiti, tears or parts missing.
A classic Dinky Gift Set that is so rare!
You may like