Corgi Toys 266 Chitty Chitty Bang Bang
Product Details
Chitty Chitty Bang Bang by Corgi Toys, No. 266. Mint/boxed (new cellophane). GOLD windscreen & larger box version. Complete with all four original figures and wrap-around cloud scene! Original and best 1st issue from The Francis Schaffer Collection. QDT starting bid £200. Please note that QDT apply 12.5% buyer's commission.
Notes
This is the 'most fantasmagorical' Corgi toy, in mint condition! Gleaming bright, with all four original figures seated inside. All jewels are complete, as are the delicate carriage lamps. Complete front and rear number plates. The car's functions: the wings will flip out when the handbrake is depressed. Gold windscreen version.
Completely unused and still firmly attached to the white plastic moulded inner (tiny tear) by means of the original fixings.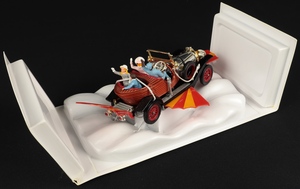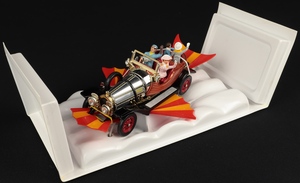 Complete blue card cloud scene (often missing).
The large cellophane fronted "window" box is strongly-coloured, clean and really crisp. Light crease on the box reverse where the header card meets the main body of the box.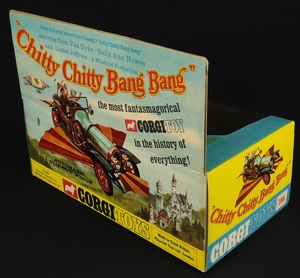 Especially noteworthy are the lack of tears to the card near the large end flaps.
New cellophane window has been fitted. We surmise that the original cellophane was damaged in storage at some point, since this is clearly an unused Corgi toy.
Box underside: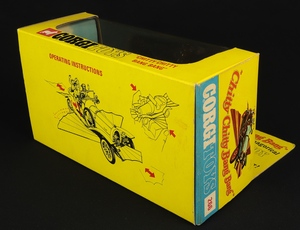 A firm Corgi favourite – one of the most decorative and much-loved Corgi models.
You may like