Playcraft (Corgi) Vapour Trails P.1099 Hawker Hunter
P.1099 Hawker Hunter Fighter Jet x 6 by Playcraft Toys (Corgi). Mint/boxed, still factory over-wrapped.
Notes
Issued during 1961, this is a shop-fresh, still-sealed factory pack of 6 x P.1099 Hawker Hunter F.6 jet fighter aeroplanes, all untouched in the decorative card boxes, held beneath the original cellophane overwrap as they would have been sent to the toyshops. A rare survivor in this state. No breaks to the delicate cellophane wrap. 6 examples that have been carefully stored for the past 60+ years!
1:96 scale.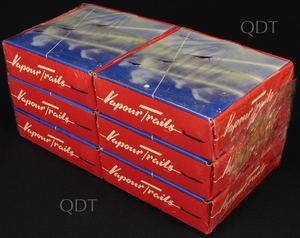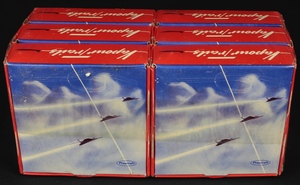 Tiny piece of debris has been trapped beneath the cellophane. The boxes are uncrushed, the colours are very vibrant still, so showing careful storage over several decades. Small period Woolworths label on the underside.