Corgi Accessory Packets
Product Details
Full Set of Corgi Toys Accessory Packets Nos. A Pack, B Pack, C Pack, D Pack, E Pack & RARE UN-NUMBERED SET. A First for QDT! Mint & complete/unopened packets. Old shop stock quality from The Pennsylvanian Collection. Starting bid £125. Please note that QDT apply 12.5% buyer's commission.
Notes
Very fresh clean and bright full set of 5 x Corgi Toys Accessory Packs (self-adhesive accessories which enabled Corgi customers to decorate their cars and lorries). All packets are still-sealed. Ready to be applied to your Corgi models or to keep as great items in their own right.
We were delighted to find that included in this set is a rare and un-numbered Accessory Packet. Note that in contrast to the deep blue section at the top of each packet and matching print, this un-numbered accessory packet has light blue – definitely 'Corgi blue' (as on the boxes!). The first we have seen.
Reverse view: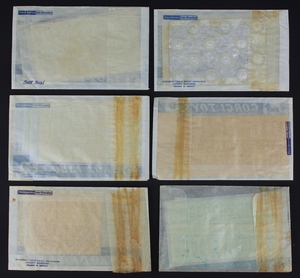 A rare find.
We cannot help but speculate if this is the earliest self-adhesive Accessory Packet – perhaps before Corgi decided to make several sets of them?
If this is so, then we expect this set to be either from late 1958 or early 1959.