Corgi Gift Set 22
Corgi Gift Set 22 Farming Models Set. Very scarce. Excellent- very near mint/boxed, complete with upper and lower moulded polystyrene trays. From The Berlin Collection.
Notes
Always an entrancing set to see. This scarce Corgi Toys Gift Set has a truly delightful detailed pictorial scene card box! Issued between 1962-65. Contents range from excellent – very near mint. Ideally some of the pieces would need to be upgraded for this set to realise its true potential.
It comprises: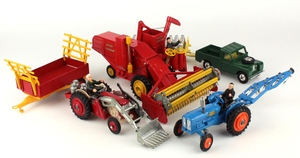 1) Corgi 1111 Combine Harvester with early metal tines (notably complete, very difficult to find ). A few small marks and a few dabs of red paint in places. Complete transfers. Near mint.
2) Corgi 406 Land-Rover in dark green, shaped spun wheels. Near mint with a couple of lighter green retouches.
3) Corgi 101 Platform Trailer is in primrose yellow with shaped spun wheels. Near mint.
4) Corgi 62 Ford Tipper Trailer in red and yellow with red plastic wheels. Near mint.
5) Corgi 53 M-F 65 Tractor with shovel in red with red plastic wheels. Near mint with silver shovel. Lacks one small section of the fork.
6) Corgi 55 Fordson Power Major Tractor in near mint condition with complete transfers on both sides. Few marks to the paint and a little break to one of the orange plastic wheels (no parts missing).
7) Corgi 61 Four Furrow Plough in blue with plated shares. Very near mint.
8) Corgi 1487 Milk Churns.
9) *Corgi 1490 Skip and 3 Churns Accessory Set. Very near mint.
10) 3 original farm figures
All authentic items!
Inner polystyrene tray is intact, if a little marked by the models in places now. Unusually, this set has the top moulded piece of polystyrene too (couple of small pieces missing).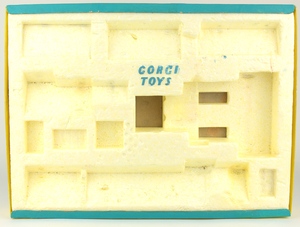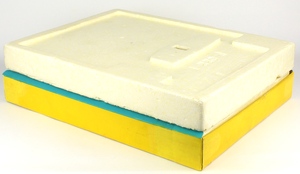 Outer box with a charming and delightful full colour pictorial scene is a work of art in itself and displays really well.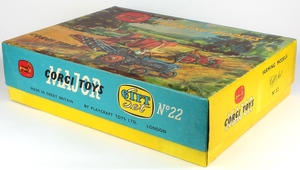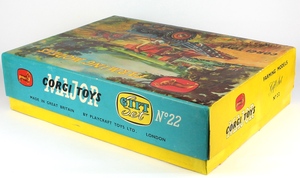 Very minor wear and a small area of surface loss at two lid ends caused by the removal of the old tape which kept the lid closed have been disguised carefully with yellow ink at some time. Minor wear besides. The comparatively flimsy yellow card base into which the polystyrene base fits has some careful repairs.
The inside surface of the vibrantly-coloured lid has remains of old tape where it seems a message was attached at some time – perhaps a Christmas Gift message? A small piece of card on the inside surface has been affixed to strengthen, too.