Trade Pack Corgi 267
Product Details
Never opened Trade Pack of 6 x Corgi 267 Batmobiles. Assumed all mint/in pristine boxes (in 1973 dated window boxes). Sensational old shop stock item from The Monty Calme Collection. Starting bid £1750. Please note that QDT apply 12.5% buyer's commission.
Notes
An exceptionally rare find.
Destined for the U.S. market, this is a never-opened, factory over-wrapped pack of 6 x Corgi 267 Batmobiles!
Tantalisingly, it is impossible to be sure which Batmobile version is enclosed. Could they be the rare red-wheeled variants (correct era, correct that they are U.S. export, correct box presentation) or indeed the smooth black-wheeled issues, also correct for this box. At the very least, they will be mint, untouched Whizzwheel versions, complete with all accessories in super-fresh boxes. 
Note the dollar price label sheet enclosed within the overwrap (ready to be applied by the shopkeeper to the individual boxes, and a plain brown envelope of demonstration missiles for the shopkeeper, too).
a href="/system/images/000/097/864/original/Corgi-267-Trade-Pack-Batmobile-YY2721abc.jpg?1574428440" class="lightbox" title="zoom view">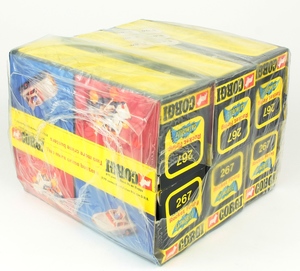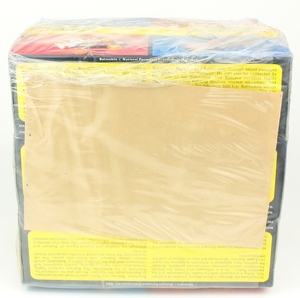 There are a couple of cellophane splits that are not big enough to allow one to extricate one of the boxes. So the conundrum remains unanswered – unless the new owner opens the cellophane over-wrap!