Corgi 228
Product Details
Corgi 228 Volvo P.1800. Deep red issue. Possibly unique item with original SAINT'S LOGO. Very near mint/boxed. From The Bickley Collection. QDT starting bid £1500. Please note that QDT apply 12.5% buyer's commission. Please see our footnotes - including update from the Old School Collector and original owner.
Notes
The world class 'Old School Collection' included some surprises! None more so, than this deep red Volvo (quite a scarce issue in its own right) but with an original SAINTS Logo on the bonnet! Of course, the Saint's Volvo would be issued a little later, the same casting would be used but finished in white. The original owner recalls buying this particular model along with quite a few other items from a private collector quite a few years ago, and this model was just included and not especially mentioned!
Corgi 228 Volvo was issued between 1962-65 in a variety of colour finishes. The Saint's Volvo would be issued between 1965-68.
This example has a bright deep red paint finish with a lemon interior and silver detailing at the raised body lines and bumpers (all original). Suspension on shiny shaped spun hubs. Well-shaped original tyres.
In close to mint condition:
A few marks and misting on the inside surface of the windscreen.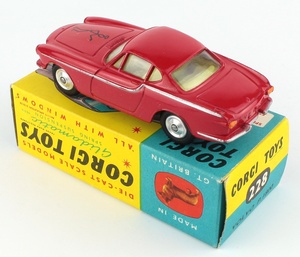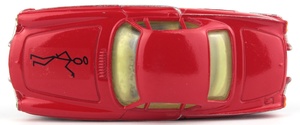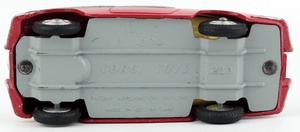 The box is complete, clean and bright, feeling very crisp. Crease (storage) at an end flap. Corgi Club Membership Form.
QDT View:
The paint finish is original and so is the Saint's Logo transfer. Whether the two met in the Corgi factory or a little later we will never know. Nonetheless, an interesting item with a modest starting price.
Footnotes:
Upon discussion with another Corgi specialist, he confirms our opinion that the transfer is genuine – and moreover, he has actually experimented with transfers from this time, simply to see if an original transfer could be reasonably applied at a much later date. No success on this front.
A note too from Luc Vancampenhout, Volvo specialist and author of our blog 'The Corgi Volvo Story'
'Concerning the "transition models", I rather think that in 1965, production of 228 came smoothly at an end while 258 was already launched, and that Corgi made some production errors, like the ones described in the 2nd part of the Volvo blog : a white 228 with a Saint figure, a red 228 with a Saint figure, a red one on 258 base instead of 228 base, and I would category this red 228 with Saint"s logo there as well.
However, I think the 228 in white with red interior, without Saint's figure, is a different story. As there are indeed several exemplars known, I think this was really an intended small production run.'
Without provenance however, we do advise collectors that these are opinions, albeit informed, on the status of the model.
The owner of the models added:
"I remember buying the 228 – an item from a friend in Berlin who had a large collection. He died about 15 years ago. I found some of the lists from this collection whilst I was cleaning my display room and cabinets. I recall he was a frequent buyer at the Lösch Auction House in Germany too".
You may like