Corgi Correspondence
6 x Mettoy/Corgi Letters from 1959, 1966, 1969, 1967/68, 1969. An insight into some of the events that shaped the company from The Pennsylvanian Collection.
Notes
We draw you attention to 2 of the letters in particular:
1) Dated November 1966, this letter refers to the outstanding success of Corgi 267 Batmobile
2) Dated 12th March, 1969, the poignant letter refers to the Swansea Warehouse fire and their intention to continue with supply to Corgi shopkeepers in spite of this event.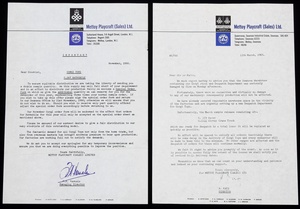 You may like