Timpo Gift Set 2
Timpo Gift Set 2. One of the rarest Gift Sets! With Quality Control Label. Excellent - near mint plus. From The Cheshire Collection.
Notes
An impressive Gift Set comprising no less than 2 saloon cars, a Roadster, a Racing `Car, articulated Fuel Tanker and Delivery Van as well as 3 Petrol Pumps, 2 Oil Bins, 2 mechanics and 2 chauffeurs!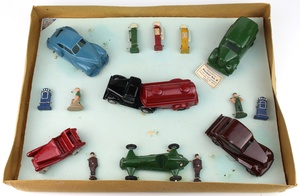 Some of the items have a few dabs of repainting. Occasional chip. All 3 Petrol Pumps are intact and brightly-coloured, complete with paper labels.
Original figures are naively formed. Oil bins too.
All items are affixed (some original string) to the pale blue card insert. This sits within a buff base which has re-enforced corners and a couple of edge scuffs.
Nice to see the Quality Control Label in place.
The colourful lid (reminiscent of Pre-War Dinky Gift Sets!) has vivid colours and an attractive colourful paper label. THE FAMOUS TIMPO CARS.
Seam and (2) corner repairs.
Box measures approx 40cms x 30 cms.
Extremely rare and charming in equal measure. We have not seen another!
You may like