Dinky 503
Dinky 503 Foden Flat Truck with Tailboard. Very near mint/boxed. A very rare 2nd type export version in FRENCH BLUE and BURNT ORANGE. U.S. Market only box version. From The 25 Year Collection in California. Another first for QDT! Bids are invited on this item - please see the relevant section on our Faq Page. QDT starting bid £350. Please note that QDT apply 10% buyer's commission, with a ceiling of £100.
Notes
The first example we have ever offered for sale in this distinctive colour finish. As far as we are aware, this particular colour combination – French Blue & burnt orange was never available in the UK.
The owner in California tells us:
"This model was part of a small group of very nice mint/boxed Dinky that I bought years ago from a train collector who had some nice Dinky for his layouts".
In extremely fine condition with a wonderfully glossy unused finish. Bright baseplate, axles and spare wheel fixing. Just one very small casting mark on the roof and a couple of negligible (probably factory) marks to the all original paint finish. Black radial tyres look extremely fresh and are well-shaped. Metal parts are shiny.
An exceptional example of an extremely rare model and the first we have ever offered for sale.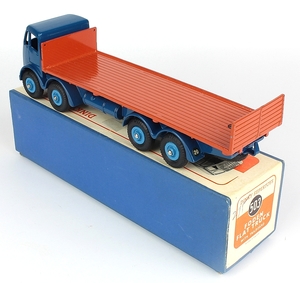 This model has been carefully scrutinised by us – we always have a healthy scepticism when it comes to commercials from this period! There has been no tampering with this model and of course both components were available in the factory during 1952-54. Correct that this model has a black nut on the underside which secures both components. Very carefully, we have unscrewed the bolt just once in order to thoroughly examine it – we can confirm that there are no traces of any other colour paint on the underside – just a little paint transfer as you would expect between the two pieces (and no other unexpected colours present). This lends weight to the opinion that this is how the model started out. Inside the very fresh clean and bright blue box, we can see faint traces of the colour of this Foden only. This lends further weight to the argument that this is correct. The box has in fact two picture labels (one pasted on top of another, couple of small edge tears to the top label). Rarely seen but not unheard of – this is merely a factory error.
Note too that this particular box version is U.S. market only as it has DINKY SUPERTOYS printed and both lid ends are in English only. Note too the bright red U.S.export Hudson Dobson label.