Corgi 448
Unique prototype of a never issued 'CORGI' Delivery Van. Intended for but not sold at The Losch Auction 2000. From the 'Exclusively Mini' Collection. Bids are invited on this model - please see the relevant section on our Faq Page. QDT starting bid £250. Please note that QDT apply 10% buyer's commission, with a ceiling of £100.
Notes
A message from the owner:
_"This model was intended for The Lösch Auction where many items from Marcel Van Cleemput were sold in 2000. A German Corgi Junior Collector who knew the auction house well managed to buy some Corgi Junior pre-production items a day or two before the auction. Included in this lot was this "POLICE" Mini. He knew I was a dedicated Mini collector so he offered it to me.  I was more than happy to buy it!">
After researching this model:
This model is a combination of Corgi 448 and 450.
Back doors and interior from 450 and the body shell with aerial from 448.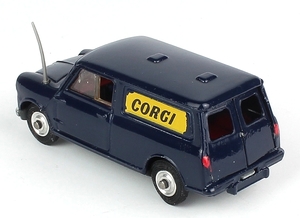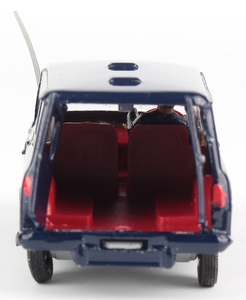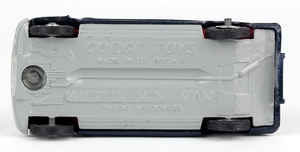 1.The decals must be part of an early Routemaster Bus "Corgi Classics" label.
2. Normally the Police Mini Vans have the cage divider for the dog made of clear plastic between the front seats and the back. This one does not have one it has the interior from the 450 Van.
3.The back doors are not 'cage style'.
4.The aerial is present.
5.Driver Figure (original – rivets look untouched).
A genuine prototype. Maybe Corgi wanted to make a Corgi Salesman's Car or something similar to a Corgi delivery van.
Condition: very near mint, with the occasional negligible mark and little edge nibbles to the 'Corgi' transfer.