Dinky 47
Dinky Gift Set 47 Road Signs. Very near mint/boxed. White sprayed under bases, filled in triangles. Scarce U.S. export set in PLAIN SLEEVED-BOX. With Hudson Dobson label. From Duncan's Collection.
Notes
An unused set of 12 road signs,each with a black base, white underside and where applicable triangles are filled-in. A nice, unused complete set!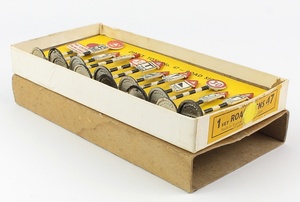 Occasional tiny mark only.
All are safely slotted in their yellow card insert which has no tears.
Scarce to find in the white card base and plain over-sleeve. A U.S. export set complete with the H.Hudson Dobson export label on the sleeve. Tape removal has caused a little surface loss. Remains of old tape. White box base has a small edge scuff (not a full thickness tear) and a yellow sticker which if carefully lifted, conceals a small area of surface loss.
Not an easy find.