Dinky Toys Stand
DInky Toys Card Stand. Very, very near mint, with bagged sealed fixing accessories. From 1964. Extremely rare point of display item. The first we have ever seen! From The Reference Collection.
Notes
An extremely rare find, and we surmise a temporary stand. Completely unused with day-one colours and delightful artwork. It folds together in order to make a 3-Shelf Display Stand with two compartments at the rear for Catalogue Storage. Instructions for assembly are printed on the reverse. Measures 61cms x 42cms.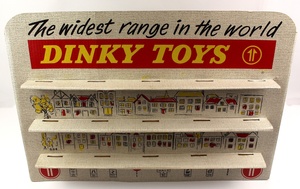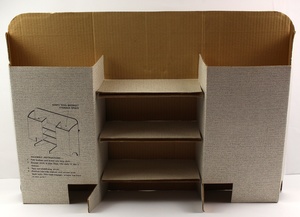 The pale grey 'weaved' background is identical to the card used for the Dinky Mayfair Set, Goodwood Set, Holidays Set, Site Building Set & Commer Convertible Articulated Truck Set (Dinky 424), and others from this period.
Just a very small tear on the reverse and tiny wear besides.
Still-sealed clear packet contains fixing accessories:
After much searching through Dinky catalogues, this Display Stand has been dated from 1964.
You may like