Dinky 978
Dinky 978 Bedford Refuse Wagon. Emerald green cab issue, mid-grey back, grey roof box, WHITE interior, silver CAST wheels. Orange & black chevrons. Very, very near mint/boxed (end flap style with WHITE BACKGROUND), with both original grey bins, including the lids. From The Daylight Collection.
Notes
Originally purchased by the owner from a collector who enjoyed touring toy shops in the mid 60's & early '70's buying models that appealed to him. If he could find a bargain then he would buy multiple examples of the same item. His collection comprises Dinky, Corgi and several Spot-On models.
This classic Dinky truck was issued for some sixteen years in total (1964-72), this version having a metallic green cab, is the last issue presented in the harder to find end flap picture box with a white background. Model is in virtually mint condition with both REFUSE WAGON labels at the sides, as well as an intact chevron label at the rear. Perfect crest transfers on both sides of the vivid green cab. All delicate mid- grey rear opening shutters are intact.
In virtually mint condition.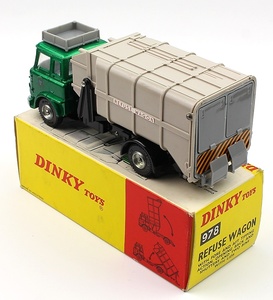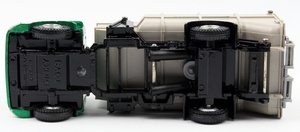 Both grey plastic bins are present, complete with removable lids.
The end flap box with a white background is bright and complete. Crisp, intact card. Light storage grubbiness, tiny edge ruffle and a crease.