Minic 53M
Tri-ang Minic 53M Single Deck 'Green Line' Transport Bus. Deep red & stone version. Near mint. Very early (pre 1938) issue. From an exceptional cache of Minic models from a lifelong collector in Devon.
Notes
He has been collecting as long as he can remember and whenever he feels like thinning out his collection, we are treated to some wonderful items for the website!
The first we have ever offered for sale. This pre 1938 issue Single Deck London Transport Bus is finished in deep red and stone, with complete 'LONDON TRANSPORT' transfers on both sides, and a working clockwork motor. Endearing 'BISTO' transfer at the rear of the bus is virtually complete too. Shiny wheels. The white tyres are originals but unsurprisingly are mis-shapen now.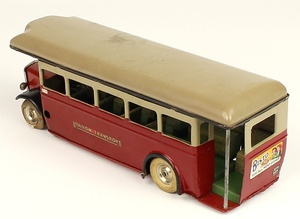 Some tarnishing to the radiator and a small 'crazed' area on the roof. Rough paint area at the lower rear edge. Complete 'DORKING' destination transfer and 'AYV 604' registration numbers.
You may like