Corgi Gift Set 28
Corgi Gift Set 28 Carrimore Car Transporter & 4 Cars. Excellent - very near mint/boxed. Scarce set with all inner card packing, 2 Corgi Dog Sleeves and correct leaflet. Scarce. From The Cheshire Collection.
Notes
This would have been a special treat indeed for some lucky little boy circa 1963!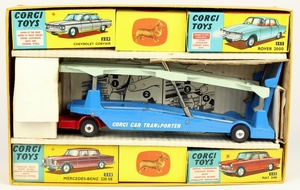 It comprises:
1) 1105 Bedford TK Transporter is in excellent (only) condition. Chipping mostly head-on and a few smaller marks for the most part besides. Both wing mirrors are intact and complete with the mirror reflective pieces. Corgi Dog transfer is virtually complete at the rear.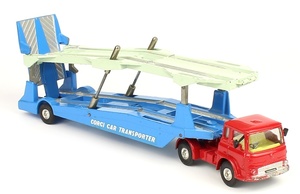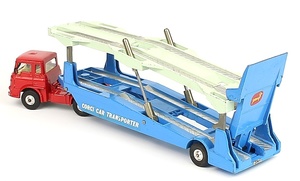 2) Corgi 232 Fiat 2100. Near mint example (a few marks), with both headlight jewels. Box is bright and complete if looking a touch worn now.
3) Corgi 252 Rover 2000 is in very near mint condition in a crisp, clean and vivid box!
4) Corgi 229 Chevrolet Corvair. Very near mint in a very fresh box.
5) *Corgi 230 Mercedes-Benz 220 SE Coupe. Near mint with marking nearly all confined to bumpers. Box is complete and crisp, although rather rubbed in places.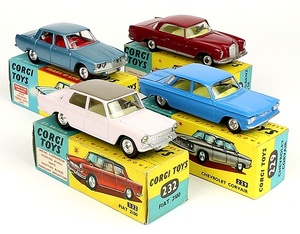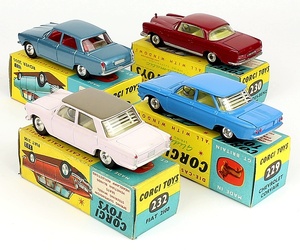 Complete with two original 'Dummy' sleeve-style boxes (versions without end flaps).
Box inner card packing is present (all 3 sections). A little wear caused by movement of the transporter. Complete with the Leaflet too.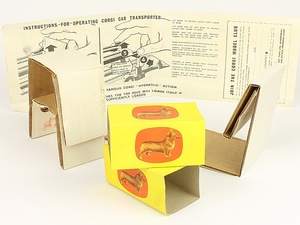 The attractive pictorial card box is complete and vividly-coloured . A discreet glue repair t one lid seam. Minor edge wear/rubbing besides.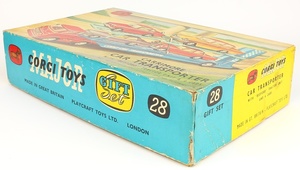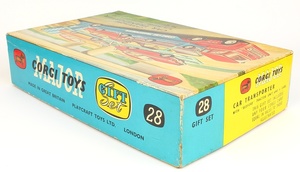 You may like