7BOTM
7 x period Black and White Photographs found in the office of the Chief Designer for Corgi, Marcel Van Cleemput. Barris Kustom City Photographs of the Oldsmobile Toronado from the TV Detective Series 'MANNIX'. From The MBU Collection.
Notes
Discovered in the office of Marcel Van Cleemput the chief designer for Corgi, this is just a sample of the many ephemera items given to the MBU Collector as a thank you for his help with 'The Great Book of Corgi'.
The U.S. Detective Series "MANNIX' ran from 1967-75, and featured the Oldsmobile Toronado captured in these Barris Kustom City photographs. Star Mike Connors pictured alongside George Barris and the Oldsmobile in one photograph. Each large photograph has the Barris Kustom City stamps on the reverse.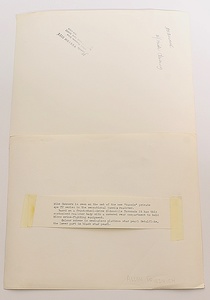 Another project Corgi must have been considering…
You may like