CTWS
Original Early Point of Sale 'Corgi Toys - New Models Here Every Month' Window Sign. 1960 issue. Scarce item from The MBU Collection.
Notes
Discovered in the office of Marcel Van Cleemput the chief designer for Corgi, this is just a sample of the many ephemera items given to the MBU Collector as a thank you for his help with 'The Great Book of Corgi'.
As pictured on page 99 of 'The Great Book of Corgi' this rare window sticker dates from 1960.
A completely unused early Corgi Toys window sticker, still on backing sheet. Red-backed early Corgi Dog logo with half-blue, half-yellow oval section with 'CORGI TOYS' in large black letters, with 'UP TO THE MINUTE SCALE MODEL PRECISION' in smaller white print.
Yellow section has 'NEW MODELS HERE EVERY MONTH' in large red italicised print.
Measures approx.22cms x 19.5cms which includes the backing sheet.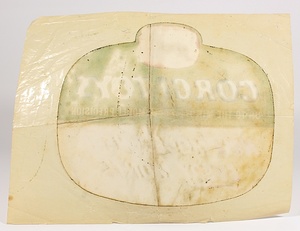 Backing sheet is rather grubby now with some age wear.
You may like