QAI
Corgi Ephemera Group relating to The Queen's Award To Industry 1966 & 1967. Marking an important moment in Corgi's history. Remarkable items from The MBU Collection.
Notes
We are honoured to bring to the market-place an exceptional ephemera group:
1) Impressive presentation cylindrical container in Royal Blue with silver print 'THE QUEEN'S AWARD TO INDUSTRY ' with Royal Crest. Item is 35.5 cms. tall. Virtually pristine condition.
2) Inside the cylindrical container are two Queen's Award To Industry Scrolls (1966 & 1967). Formal presentation documents with Her Majesty's signature and also signed by the Prime Minister of the day Harold Wilson.
Very close to mint condition (tiniest wear).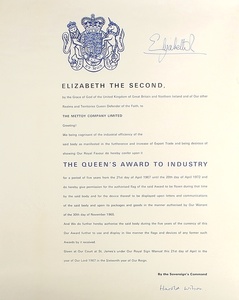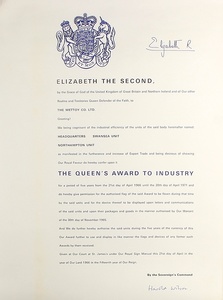 Sheet of plain lighter weight paper separates both scrolls.
Original buff lift-off lid box for the cylindrical container includes a protective corrugated liner.
3) The original invitation for the Presentation Ceremony to Marcel Van Cleemput. VIrtually mint.
4) Desk Ornament 'THE QUEEN'S AWARD TO INDUSTRY' 1966, 1967.
You may like