NATR
National Association of Toy Retailers Award 1966, 67, 68. A unique item from The MBU Collection. As mentioned in 'The Great Book of Corgi'.
Notes
Purchased at The Mettoy Sale at Christies Auction House in 1993 by the MBU Collector. This award was given to Mettoy Playcrafts Ltd. in recognition of this being the 3rd consecutive year of achieving the highest standards.
From The Great Book of Corgi, this is a rather poignant note:
" In this year (1968) Mettoy would achieve its third 'Highest Standard' award. Sales in 1968 would start dropping significantly by over 3 million pieces." (page 218).
(Moreover, one cannot help but reflect that in 1969, there was a major fire in the Corgi factory).
This wooden and metal N.A.T.R. Award measures approx. 15.5 cms (at its widest point) x 18.5 cms. Deep green baize on the base.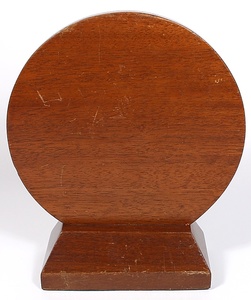 A very attractive award with just a few little edge marks nearly all confined to the reverse. Note that one of the small metal pins keeping the metal 'shield' in place is lost now. However, the shield is still firmly held in place by the other four pins.
A wonderful display piece for the dedicated Corgi specialist marking, as history shows, the pinnacle of the Corgi /Mettoy era.
You may like