DTCS
Large promotional Tiered Card Stand 'DINKY TOYS DINKY SUPERTOYS'. Beautiful and rare original stand (estimated) from 1957. A treasured point of sale/promotional item from The Reference Collection. Please see our Blog on this collector.
Notes
A most eye-catching promotional card stand from 1957 (estimated) – a display piece from Dinky's heyday – and the first we have ever offered for sale. We expect very few were made for an original Toy Show during 1957 or a promotional stand from one of the largest Dinky shops.
The stand which can hold several Dinky commercials from this era with ease measures approx. 67cms (at its widest point) x 35.5 cms high , with a depth of 35.5 cms. ( measured to the back of the stand).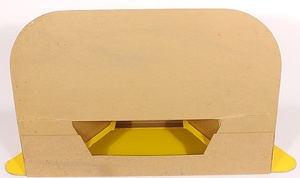 Note that the colours are day-one vibrant throughout, there are no tears or graffiti and the stand is complete. A little creasing as can be seen in the pictures. Light wear including a very small portion of the surface card missing at a side edge, a few tiny edge nibbles of the yellow surface besides.
A magnificent display piece from this era.
You may like