CMS8002
Corgi Marks & Spencer Gift Set 8002 Motorway Police Patrol. Scarce. Mint/boxed.

Price: £125.00
This item is no longer for sale, price for reference only.
Notes
An unusual Gift Set, made in collaboration with Marks & Spencer and sold only in selected stores in small quantities. Several Gift Sets were made in the range for a short period (during 1978) with unique liveries and distinctive boxes. No mention of Corgi on the models.
This set comprises:
1) Corgi 429 Police Jaguar XJ12C in crisp white finish with bright sirens etc on the roof, straight aerial and fresh bonnet and door labels. In tip top condition, with bright chrome, and intact tow hook.
2) Corgi 314 Fiat X1/9 in 'pearlised' metallic blue finish and black. Mint.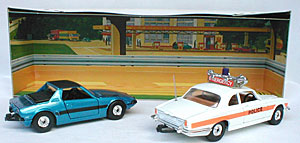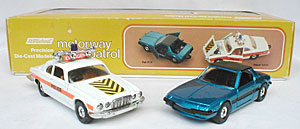 Attractive, pristine colourful card backdrop and intact plastic tray in which the models sit.
Box lid is complete, bright and clean with minor wear only.
You may like