C3008
Corgi Juniors/Husky Gift Set 3008 Crime Busters Set. Assumed mint (contents never removed from box). Superb and scarce 4-Piece Set from The Monty Calme Collection.
Notes
A landmark Corgi Collection covering the width and breadth of Corgi models amassed over decades by an exuberant collector. The Monty Calme collection is a truly astonishing gathering of the best of Corgi models and ephemera, including rare and unique pieces and point of sale items. The largest collection we have ever seen.
The first we have ever offered for sale.
This rare 4-Piece Gift Set comprises:
1) 1001 James Bond's Aston Martin DB6 in silver, with ejected figure, silver wheels
2) 1002 Batmobile, with seated figures of Batman & Robin, black wheels
3) 1003 Batboat, with seated figures of Batman & Robin, black wheels
4) Man from UNCLE, with silver cast wheels, missiles on sprue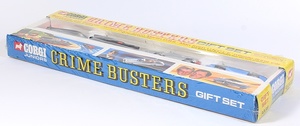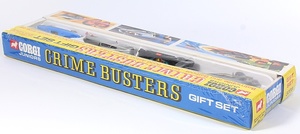 Never removed from the box, so contents are assumed mint. Items sit within a white plastic inner. Peering into the box, we can see no evidence of any splits to this moulded plastic inner.
The long slim card box has day-one bright colours on as-new card.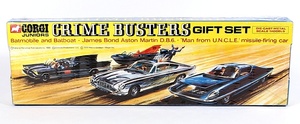 The very fragile thin cellophane over-sleeve has a split. Issued 1968-69. Few have survived in this condition.
You may like