CJ3081
Corgi Junior Gift Set 3081 Superman. Mint/boxed. Scarce.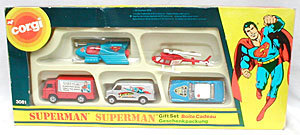 Price: £145.00
This item is no longer for sale, price for reference only.
Notes
Another scarce Corgi Gift Set from the private collection of 1970's Corgi just purchased, carefully assembled over many years. All in authentic condition.
This Superman Gift Set is in complete and unused condition containing the five Superman models from the range i.e. Supermobile, 'Daily Planet' Jetcopter, 'Daily Planet' Van, Supervan and Metropolis Police Car.
Al five models are in mint condition, appearing never to have been removed from the pristine inner plastic tray and plain brown card packing piece. The outer box is complete and bright, with intact original cellophane.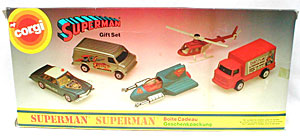 A little minor crumple at one side, and a tiny tear at one end flap (minor).
A delightful Gift Set, hard to find in this condition.
You may like