C6902
Corgi 6902 Golden Jacks Set. Schwarz issue. Rare 4-Piece Gift Set (includes Corgi 338 Camaro with detachable header-card). In pale blue lift-off lid card box. Most of the Individual boxes have never been opened, so assumed mint/boxed. A museum-grade, rare piece from The Monty Calme Collection.
Notes
The Monty Calme Collection continues to delight and surprise us as it gives up some of its most precious and rare pieces.
A first for QDT, this exciting Golden Jacks Gift Set comprises:
1) Corgi 338 Chevrolet SS 350 Camaro, in metallic green-gold and black. Never removed from its close to pristine box (slight wear to card inner). Rare to find with the detachable header-card (mint condition).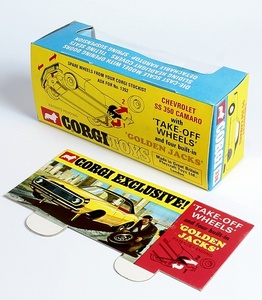 2) Corgi 276 Oldsmobile Toronado, in metallic red-brown. Never removed from its close to perfect box, so assumed mint/boxed.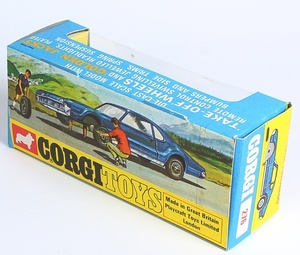 3) Corgi 341 Mini Marcos GT850. Maroon. Never removed from its box, so assumed mint/boxed. (Very small tear emanating from an end flap). Happily free of the usual crease at header card reverse where it joins the main body of the box.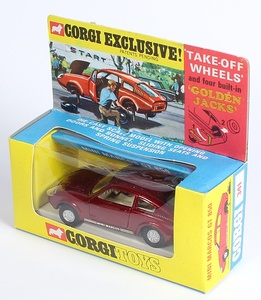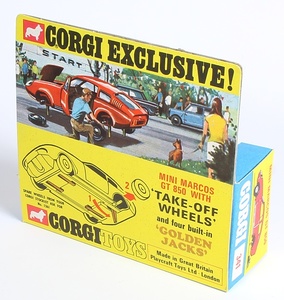 4) Corgi 477 Land-Rover Breakdown Truck, with yellow plastic canopy, complete paper labels and shaped spun wheels. Little bumper rub and a couple of mere dots to the paint finish. Super-fresh and crisp card box, with packing card piece and Corgi Club Membership Form.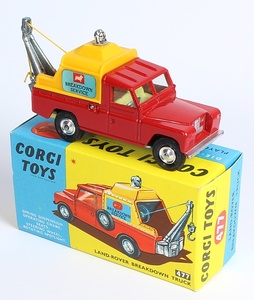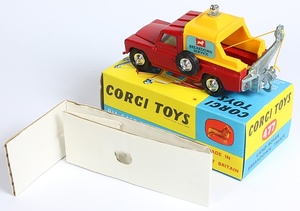 Each box from this set has day-one bright colours on such crisp card – a real delight to see boxes this good!
Slim white card sleeve contains 12 Golden Jack wheels (suitable for a complete change for each car) and 3 Pit Mechanics still attached to the sprue.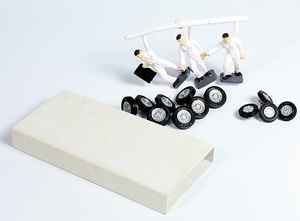 Attractive powder blue lift-off lid card box looks fresh with unfaded colours and two complete paper labels at lid end (minor furling and a light crease). Light surface marking. No rubs or graffiti.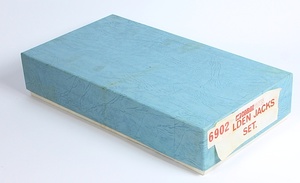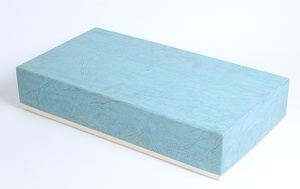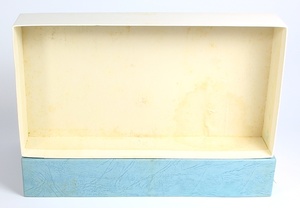 The white box base has a little area of water damage and a thin light stain.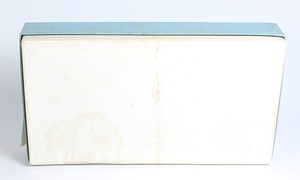 You may like