CPVV
Wooden Prototype of Corgi Vauxhall Velox. Originally sold through Losch Auction 2000, property of Marcel Van Cleemput. Another wonderful item from The Monty Calme Corgi Collection.
Notes
The Monty Calme landmark Corgi Collection, covering the width and breadth of Corgi models amassed over decades by an exuberant collector. The Monty Calme collection is a truly astonishing gathering of the best of Corgi models and ephemera, including rare and unique pieces and point of sale items. The largest collection we have ever seen.
Lot number 2110 at the auction in Losch 2000. This wooden Prototype model of the Vauxhall Velox has fine ink details. Measures approx 10cms in length (or 3.83" as inked on the underside). Flat spun wheels are fixed.
This particular construction of the Vauxhall Velox is quite different from the Corgi 203 model that was issued 1956-61. This particular version never made it past this stage and is possibly an unique sample piece.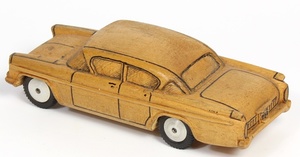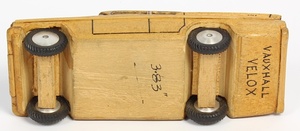 You may like