CTDS
Corgi Toys Counter Display Stage. Original Corgi Promotional card display stand from 'The New European' Collection. Scarce item, never assembled.
Notes
With a Corgi collection richly evoking the period between the late 1950?s through to the mid 1970?s, this large European Collection has been lovingly compiled by an enthusiast with particular emphasis on point of sale, including original cabinets and literature, prototypes, promotional items, alongside a high quality collection of individual models and Gift Sets
One of the most eye-catching Corgi display stands in close to perfect condition! An original counter display item with a sturdy card platform to exhibit an individual model, with a reflective kingfisher blue backdrop.
Minor storage wear with surface marking to the edges of the metallic blue section. Measures approx. 37cms. x 27cms.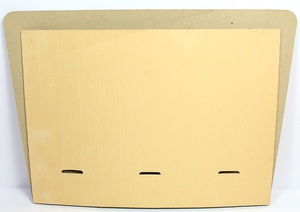 Assembled it would look like this:
You may like