C1
Original Corgi Prototype of The Showman's Engine. Purchased at Losch Auction House in 2000, and pictured in 'The Great Book of Corgi'. From 'The New European' Collection.
Notes
An exceptional collection of prototypes were purchased by ?The New European? Collector, largely originating from two well-documented sources i.e. the auction of the property of Marcel Van Cleemput at Sotheby?s Auction House in 1999 and the Losch Auction House in Germany during 2000.
Pictured in The Great Book of Corgi, this model never went into production. So this is a unique and precious find (page 472 in ?The Great Book of Corgi?).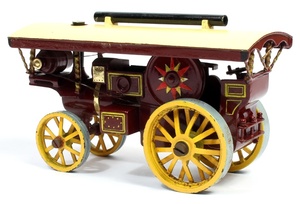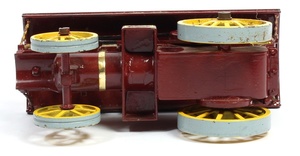 In original condition, this is a finely-detailed prototype finished in rich deep maroon and cream with yellow wheels and gold details. Measuring just a little under 11cms. Remains of a paper label on one side. Note that part of one of the small struts at one end is missing.
You may like