CSV
Corgi Special Vehicle Prototype. From 'The New European' Collection.
Notes
An exceptional collection of prototypes were purchased by ?The New European? Collector, largely originating from two well-documented sources i.e. the auction of the property of Marcel Van Cleemput at Sotheby?s Auction House in 1999 and the Losch Auction House in Germany during 2000.
Purchased at the Losch Auction in 2000, this is Lot 2123, an intriguing item which appears to bear a resemblance to the late issue Corgi Space Vehicles whilst also having a 'dragster-like' appearance! Measures approximately 13cms. This prototype is finished in very pale grey with silver engine detail. Free-running wheels. 'Cockpit' is glazed.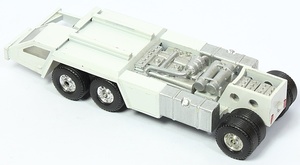 You may like