CIDE
Original Corgi Prototype of the Italian Design Exercise from 'The New European' Collection. With new additional information, please see listing.
Notes
An exceptional collection of prototypes were purchased by ?The New European? Collector, largely originating from two well-documented sources i.e. the auction of the property of Marcel Van Cleemput at Sotheby?s Auction House in 1999 and the Losch Auction House in Germany during 2000.
Pictured in 'The Great Book of Corgi' on page 467, original property of Marcel Van Cleemput.
Unfortunately, this exciting model never went into production, so this metallic blue and white prototype with deep metallic black 'windows' is all that remains of this unique Italian Design Exercise. Fixed wheels. Red painted rear lights.
Measures approx. 11.5 cms. Little mark on the roof.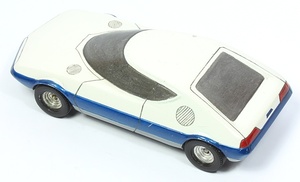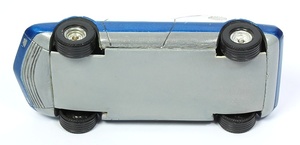 The white and blue CIDE model is of a 1973 NSU Trapeze, designed by Bertone – an interesting X-Car on several fronts, not least because it was the swan-song car which bankrupted the ailing NSU. Just like the Ro80 it had a wankel engine, and was intended to break into the U.S market.
This additional information was discovered and kindly supplied by a collector (Mark E.)
You may like