C1
Original Corgi Prototype of the Alfa Romeo Montreal from 'The New European' Collection.
Notes
An exceptional collection of prototypes were purchased by ?The New European? Collector, largely originating from two well-documented sources i.e. the auction of the property of Marcel Van Cleemput at Sotheby?s Auction House in 1999 and the Losch Auction House in Germany during 2000.
Sold through the Losch Auction House, Germany in 2000, this was part of the Corgi Archive, property of Marcel Van Cleemput.
Sadly, this model never went into production, so this nicely-detailed wooden prototype is all that remains of this exciting Alfa Romeo Montreal model. Yellow and black painted wooden prototype with silver trim and fixed whizzwheels. Approx. 9.5 cms in length. A little paint loss on the rear screen.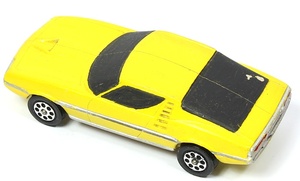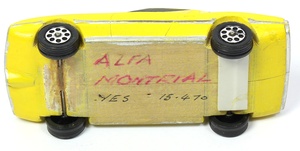 You may like