CCP
4 Corgi Prototypes of "Sir Prancelot' Series Figures. Never issued. From 'The New European' Collection.
Notes
An exceptional collection of prototypes were purchased by ?The New European? Collector, largely originating from two well-documented sources i.e. the auction of the property of
Marcel Van Cleemput at Sotheby?s Auction House in 1999 and The Auction House in Germany during 2000.
Lot number 2663 at Losch Auction House, 2000. 4 x detailed domed 'Sir Prancelot' figures (just like the Corgi Magic Roundabout figures issued by Corgi 1972-74). Children's t.v. series from 1972.
Each dome and plinth measure 9cms (figures dimensions vary slightly). Just like the Magic Roundabout figures, the plastic domes are difficult to secure in place. Figures are colourful and detailed and made of plastic. Note there is a split to the clear plastic dome enclosing the girl figure and the male figure dressed in blue.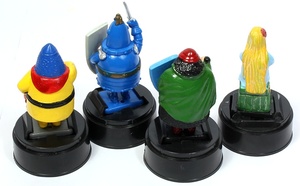 You may like